First Person
Cape Town, South Africa: A City of Inspiration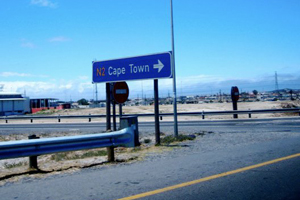 Winter break is an interesting time for college students: we travel home to see family, we meet up with old friends, and we attempt to act like nothing has changed. Christmas is celebrated by some, and absence of papers and exams is celebrated by all. For me and the ten other members of the Alternative Break: South Africa trip, winter break offered an entirely new adventure.
American University has sent hundreds of students on trips both abroad and nationally through its alternative break program. The program focuses on international and domestic service-learning trips that are organized by student leaders. The theme of the alternative break I participated in was the rights of HIV positive and at-risk populations, and it was based in Cape Town, South Africa. The trip was co-lead by Sarah McHaney (SIS) and Taylor Dempsey (CAS), and sociology professor Bette Dickerson advised the group. The Volunteer Adventure Corps (VAC) based in South Africa welcomed us with open arms and worked to "provide an easy transition to life in Cape Town," according to Sean Walpole, VAC founder.
Our group of 11 students divided into three small groups. One group spent their mornings working with Sisters4Sisters, an organization that helps women who have suffered from domestic abuse. The AU students helped with everything from conducting workshops for adolescent girls to filming a documentary that will be used to raise awareness. The other two groups were assigned to two health clinics in area townships. One group assisted the Gugulethu Clinic with aspects of a Disaster/Emergency Response plan for the clinic. I worked at Heideveld Clinic with the other group. The clinic was much more comprehensive than I had imagined; it had working computers, an emergency room, and friendly, hard-working doctors and staff. Still, it was easy to recognize the challenges the clinic faced with over-crowding and lack of basic supplies. I helped organize files and make appointments while Dempsey and Tahmina Ahmed, premed and public health students, shadowed doctors and interviewed HIV/AIDS patients. Our volunteerism was overseen by Anthea Spielmin, facility director, who constantly showed her appreciation for student volunteers from the U.S. She said, "We accept all American students and hope that we can give them [an educational experience] in exchange for the help they give us."
In the afternoons we visited various public and nonprofit organizations and spoke with people who were knowledgeable about the problems surrounding HIV/AIDS in South Africa. Each expert provided a different view of the pandemic so that we could gain a broader understanding of the issues. We met with groups that focused on a range of topics including education, awareness and prevention, funding, and HIV testing and vaccinations including three organizations that are unique to the HIV/AIDS movement in South Africa: Grandmothers Against Poverty and AIDS (GAPA), Mothers2Mothers, and Grassroots Soccer.
GAPA members are elderly women holding together families afflicted by HIV/AIDS and poverty. Many of these women are the primary caregivers for their grandchildren because their children had died from AIDS. They conduct educational, skills building, and income generation workshops, organize mental health support groups, provide daycare, and offer financial assistance for the children's education.
Mothers2Mothers focuses on preventing HIV transmission from pregnant women to their children. Its counseling centers provide education and support for pregnant women and new mothers while also increasing their access to life-sustaining medical care. HIV-positive mothers that have birthed healthy babies are hired to educate other pregnant women about the disease and their healthcare options. Not only does this program greatly help in lowering transmission rates, but it empowers women living with HIV/AIDS to fight the stigma and live positive and productive lives.
Using the power and popularity of soccer, Grassroots Soccer provides youth with knowledge, skills, and support to live HIV-free through its culturally sensitive and fun HIV/AIDS life-skills curriculum.
The service work that we did and the people that we learned from allowed us to not only see many different sides of HIV/AIDS and the Cape Town-area, but also to see South Africa. Meredith Daniels (SOC) and Tahmina Ahmed (CAS) will count the people they met in South Africa among their best memories. "The people at the clinic were just so welcoming. I felt like they had known me for years!" remarked Ahmed. Daniels takes her enthusiasm one step further. "I will never forget the stories that I heard. Even if I wrote the stories down, it would not be the same. I want to take back the sights, the smells, what I've heard, everything."
It had always been my dream to visit South Africa, but I never expected to see it from the standpoint of a volunteer. Other AU students who want to share this experience will be able to participate in an 8-week program based in Cape Town starting this summer. Offered through AU's Center for Community Engagement & Service, the expanded program developed by Professor Dickerson will allow students to engage in longer-term work with a larger number of organizations including some of the same ones we worked with, strengthening AU's growing partnerships with South Africa. Under the theme "Societal Transformation and Service Learning: Race, Class and Gender" they will experience the differences in cultures and lifestyles between the US and South Africa, the ethnic diversity of the people living there, apartheid problems that still exist, the many post-apartheid successes, and the enormous pride of the newly democratic nation.