Social Sciences
Students Present at Regional Conferences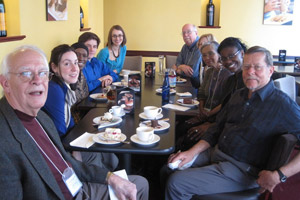 This spring, the Department of Sociology's students have had an unprecedented level of attendance at regional meetings and AU conferences. The experience of presenting their work helps them summarize their argument's main points, explore the use of theoretical angles in thinking through a research question, and develop the skills to make their audience interested in the project—not to mention manage their nervousness. This March, the department had four MA students present at the Eastern Sociological Society (ESS) meetings in Boston, and over a dozen BA students presented at the Robyn Rafferty Mathias student research conference, hosted by AU's College of Arts and Sciences.
Carimanda Baynard was one of several MA students presenting at the ESS meetings. Her talk, entitled "How did The Washington Post and The New York Times Coverage of Hurricane Katrina Advance the Sociological Understanding of Disasters?," elicited comments and discussion from the audience. Carimanda explained her methodological choice of newspaper content analysis, the relevance of the intersectionality theoretical framework for her project, and intersectionality's potential impact on research and literature on the sociology of disaster. Among her discussion points, she noted the rigidity of media coverage in reifying a Black and White binary, the difference in linguistic terms chosen to refer to Black and White people, and the active work of both Democratic and Republican politicians in characterizing those impacted by the storm as disadvantaged.
Connor Brooks' ESS presentation, titled, "Classic Sociological Theory and Subprime Mortgages," explored how concepts from classic sociological theory from Weber, Marx, and Durkheim are still relevant in economic phenomenon today. This includes competing forms of rationality from Weber, concerns of exploitation and reified economic systems from Marx, and anomie generation through the lack of regulation and professional ethics following Durkheim's concerns. Questions generally gathered from his presentation geared to whether Connor considered structures other than subprime loans to discuss in relation to these theorists, and if any recent booms and busts bear similar relations, such as the dot-com industry bubble.
At the College of Arts and Sciences annual Robyn Rafferty Mathias Student Research Conference, the department was represented by over a dozen students, including undergraduates Sarah Bernal and Katie Messina. Bernal, who has presented two years in a row, focused this year on her two capstones— "talking back: de-coding non-language in rape disclosure narratives on online forums" for the Women's, Gender, and Sexuality Studies Program and "the politics of knowledge: a case study of 'activo/pasivo' in the construction of latin american sexuality" for the Department of Sociology.
"The challenge for a ten minute presentation is narrowing down what to share with your audience—and for me, [it was] explaining the foundation that a layperson might not have," says Bernal. For her 'talking back' presentation, Bernal walked the audience through the concepts and arenas discussed in her research: the legal processing of sexual assault, Internet forums, narratives, etc. For her 'politics' presentation, she touched on linguistics and the application of labels in reference to the social scientific study of Latin American same-sex male sexualities. Often discussed as a construct of an active and passive sexual actor in Latin American sexualities, Bernal's discussion problematized the perception as to why this is the only, or most dominant, frame of analysis in Latin American discourses around same-sex sexuality.
Messina took a serious look at pan-ethnicity in a sample of Latino artists in her presentation, entitled "'Viva la Raza!!!:' Exploration of Latinidad through Latino Hip-Hop and Rap Music." The goal of her presentation was to answer whether or not there was a general 'call' for musical artists to identify themselves with an all-encompassing Latino identity. She found that, overall, the artists included in her sample had stronger ties to their nationalities than to a pan-ethnic Latino identity. Her work suggests further research should examine Latinidad within a larger sample size. She says that the question and answer period helped her refine some of the terms she uses in her research, and that the Q&A session "was the most beneficial" part of the presentation.
Bernal and Messina's presentations were supervised by Andrea Brenner as part of the undergraduate capstone in sociology. Baynard's thesis was supervised by Salvador Vidal-Ortiz and Gay Young, and Connor's work—part of his thesis in progress—was supervised by Natalia Ruiz-Junco and John Drysdale.