Social Sciences
Dr. Esther Chow Named Professor Emerita of Sociology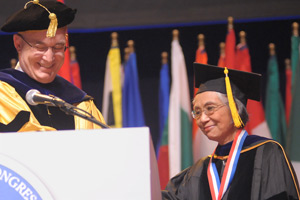 Esther Ngan-ling Chow has retired and is now Professor Emerita of Sociology. She has been a member of our faculty for the past 37 years. A feminist scholar, researcher, teacher, and activist, her work and scholarship on migration and citizenship, globalized research on intersectionality, participatory action research, gender and development, and transnational feminist practices is recognized worldwide. She is also recognized as an early pioneer in scholarship on the intersectionality of race, class, and gender, particularly in the case of Asian American women.
Her scholarship has been recognized with numerous awards including the Fulbright New Century Scholar award in 2004-2005, the Stuart Rice Award for Career Achievement (2006), and the Morris Rosenberg Award for Recent Achievement (2002) from the District of Columbia Sociological Society. Dr. Chow's renowned scholarship is matched by a passion for teaching, mentoring, and activism. The Distinguished Faculty Award (2002) from the Office of Multicultural Affairs and International Student Services at American University and the Outstanding Teaching Award (2007) from the Asia and Asian America Section of the American Sociological Association reflect her teaching abilities. Over the course of her career, Dr. Chow has served on master's and PhD committees, mentoring over 100 graduate students. Her mentorship has been recognized by the Mentoring Award (2000) and the Feminist Activism Award (2008) from the Sociologists for Women in Society. Perhaps most notably, the Sociologists for Women in Society recently named a Dissertation Scholarship after Dr. Chow and Mary Joyce Green.
Dr. Chow has also served in positions of leadership in many of the discipline's professional associations. Her elected positions include member-at-large on the Council of the American Sociological Association, Chair of the Asia and Asian America Section (ASA), and Vice President of the Eastern Sociological Society. She was the copresident of the Research Committee 32, "Women in Society," of the International Sociological Association. Dr. Chow has also served as an editorial board member for Gender & Society, International Sociology, Teaching Sociology, and the ASA Rose Monograph Series on sociology and social policy.
Beyond the academy, she has worked tirelessly to establish the True Light Foundation for poverty reduction and educational empowerment for children in rural China.
Her publications include more than 40 journal articles, book chapters, and several books including Women, the Family, and Policy: A Global Perspective (1994), Race, Class and Gender: Common Bonds and Difference Voices (1996), Transforming Gender and Development in East Asia (2002), to name but a few.
The Department of Sociology's longstanding recognition as a location for scholarship on intersectionality of race, class and gender, social inequality, migration, family and work, gender and development, globalization, and policy studies has much to do with Dr. Chow's presence over these years.