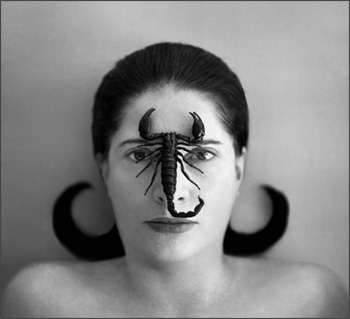 Marina Abramovic joined the spring 2011 colloquia
Image: Marina Abramovic,
Portrait with Scorpion (Open Eyes)
, 2005. Framed black and white photograph. Framed: 53 1/2 x 61 1/2 inches. Edition of 5 with 2 APs. © Marina Abramovic. Courtesy: Sean Kelly Gallery, New York.
Mission

Art Colloquia for Critical Inquiry brings to American University a critical dialogue on contemporary issues in society and culture. The colloquia presents artists, art historians, curators, designers, writers, and cultural thinkers who discuss a range of topics vital to the creative and critical practice of contemporary art. The Art Colloquia for Critical Inquiry stimulates and broadens intellectual discourse at American University and serves as an educational resource for students and faculty. We encourage cross-disciplinary thinking among internal and external departments at American University. The repertoire of speakers is scheduled in advance of the academic year to insure integration into the classroom, to promote coordination with the American University Museum, and to stimulate audience development for the Arts at American University.

Goals
The colloquia emphasizes the relationships between art and culture as a philosophical/aesthetic umbrella. Its purpose is to:
stimulate dialogue amongst the faculty and students as well as other departments at AU
to engage the arts and academic community in the Washington metropolitan area  
The Art Colloquia for Critical Inquiry is a Studio Area program, and although a separate program, it is philosophically supportive of our Visiting Artists Series. Additionally, the Studio Program welcomes participation from Art History and Graphic Design.