Alumni
Sustainable Livelihoods Flourish with Alumnus's NGO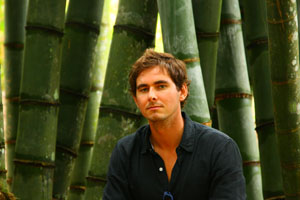 Three years ago, alumnus Brad Wilcox CAS/BA '02 said goodbye to life in the office and hello to Southeast Asia. The environmental studies graduate left life as he knew it to set up an NGO, Reef Artisan Collaborative, Inc. (RACI). In Southeast Asia, he could see and feel first hand the differences he could make working alongside charitable and socially conscious organizations.

Wilcox, once a marine policy analyst, began looking at marine conservation and sustainable livelihoods from a grass roots perspective instead of the "regulatory" point of view he had been accustomed to in his previous work. "Choosing to work within the community and seeking perspective on the reality of personal interaction with natural resources" is why Wilcox says he finally decided to make the leap from policy to NGO.

The organization strives to create sustainable livelihoods, or incomes, that "benefit cultural heritage and environmental conservation," within its network in Southeast Asia, says Wilcox. "The future of ecotourism is a balance of culture and environment."
In Bunaken National Marine Park, located in Sulawesi, Indonesia, RACI has taken a three step community-based initiative in trying to create sustainable livelihoods for 30,000 park residents. After three years of building up an artisan village, developing sustainable agriculture, and creating Bunakids youth camp, Wilcox says that one of the best parts of his job has been "seeing the community support in Bunaken and working with [residents] on the livelihoods project, just noticing how much they care and have gotten behind RACI's initiatives."
This kind of support is the source of success and motivation that has driven Wilcox and RACI, and allows the organization to continue flourishing. "There's a demand from companies that are already working on the ground, whether it be in conservation or education. People are coming to us now, outside of our livelihoods [projects]. We're achieving tangible results in Bali, headquarters of our operations in Indonesia," he says.
RACI depends on highly efficient volunteers and streamlined costs to accomplish its goals and has thus far increased its partnership base to a dozen organizations.
The organization's next project is to expand sustainable livelihood efforts into Laos, a landlocked nation surrounded by more developed countries like China and Thailand. While the program is still in its infancy, Wilcox is partnering to expand programming for a textile community that will provide residents with more work opportunities, allowing them to stay in their native land and preserve their culture.
With the help of other organizations, and by putting in looms for weavers and connecting the community with buyers, Wilcox believes RACI will also reconnect the people with their traditions. "I want to be a part of a movement that keeps some of those old ways alive and maintains connections to nature."
What makes Laos the ideal next step for RACI is the country's ecotourism opportunities and unique cultural heritage. "[Laos is] thick with religion and very untapped tourism sites.... It's a biodiversity zone and the culture's still really rich and hasn't been homogenized," says Wilcox.
With the expansion of RACI into Laos and the growing successes in Bunaken and Bali, Wilcox has his eyes on the future of the organization and supporting a strong volunteer effort. By collaborating with other organizations and maintaining production of sustainable low cost projects in Southeast Asia, Wilcox's career will continue to be office-life free as long as RACI thrives.