Alumni Success Story
The Realities of Education Assistance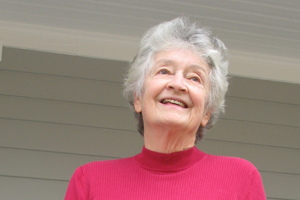 n the late 1960s and 1970s, in the midst of the Cold War and an increasingly dynamic political climate, Andrea Rugh, anthropology PhD '78, and her husband, a Foreign Service officer, were stationed in several countries of the Middle East, a region of the world that was becoming more important. Rugh, however, wasn't satisfied as an "embassy-dependent spouse" and began looking to not only learn about the Middle Eastern societies in which she was living, but to understand and analyze them.
At first, Rugh found it difficult to be taken seriously. She applied for positions in Cairo, Egypt, where they were stationed, but nothing was panning out. So when Rugh was asked to accompany a team of Americans and Egyptians to assess the needs of the Egyptian education system so USAID could provide assistance, she jumped at the chance. "My job was to help the experts understand what they were seeing and hearing," says Rugh. "But when most of the American team abandoned the survey because of the 'primitive accommodations,' I was left with two others to write the report of our findings." Being thrown into this situation gave Rugh the fuel she needed to become an almost overnight education expert, and she hasn't turned back since.

In late 1972, while she, her husband, and three young children were home on leave from the Foreign Service, Rugh wanted a way to better understand a community she had lived in and observed in Saudi Arabia. "By then, we had lived in five countries, mostly in the Middle East. I was beginning to speak some Arabic and trying to immerse myself in Arabic cultures," says Rugh. "In Saudi Arabia, I tried to map the kin links of the women I knew and found them so interconnected that I couldn't begin to draw coherent trees."
Rugh made an appointment with an AU anthropology professor to see if there was a course that would help her to understand the techniques of studying cultures. At the suggestion of the professor, Rugh enrolled in a continuing education course in ethnography and fell in love with the program, starting an MA and later a PhD in anthropology at AU 15 years after completing an undergraduate degree. "AU not only gave me the ability to make the 'trees' I wanted," says Rugh, "but also gave me a solid theoretical background for the more than 30 years I continued to live in the Middle East."
Eight books and thirty years later, Rugh still works tirelessly to help students and development professionals understand the realities and needs of education assistance in the Middle East. Her newest book, International Development in Practice: Education Assistance in Egypt, Pakistan, and Afghanistan, published in January 2012, portrays the realities of development work in the field. "Perhaps the hardest part in writing it was reliving the disappointment when government politics undermined some of the real reforms that were taking place," says Rugh. "But that is one of the realities of assistance work."
In writing this book, Rugh used her work experiences in Egypt, Pakistan, and Afghanistan to show specific examples of how education problems were addressed on the ground. Education assistance work usually focuses on issues of access to education opportunities, program quality, and capacity building to manage education systems. At the time, a particular emphasis was encouraging more girls to enroll and stay in school.
In Egypt, Rugh studied the impact of USAID support for school construction and practical courses in primary schools. In Pakistan, she worked to design and implement a major education assistance program. "Unfortunately, after the Soviets left Afghanistan, the U.S. lost interest in Pakistan," says Rugh, "and halted its development work using the excuse of Pakistan's nuclear weapons. The education project, which was making significant progress, was suddenly stopped after four years, rather than the ten planned."
Rugh went on to work with UNICEF in Afghanistan to reinvigorate international education programs that had been suspended when the Taliban banned girls and female teachers from schools. "Our efforts there focused on a 'program in a textbook' that could be delivered to any group that wanted it," says Rugh. "The program was ready to use when the U.S. invaded Afghanistan, but just as UNICEF was mounting a huge 'Back to School' effort, USAID convinced Afghan authorities to use an old USAID-funded book and our book was abandoned."
Rugh says that while much development and assistance work is positive, the "donor system" of reporting prevents developers from learning all they could from past experience. "Reports of completed projects stress positive outcomes to ensure future funding and jobs for their consultants," says Rugh. "As a result, it's difficult to learn from others' mistakes, and those entering the field are left to start afresh building their own expertise."
Rugh believes her book portrays the realties of fieldwork and the challenges faced by development professionals in a way that hasn't been done before. "In many ways, these countries are entirely different—their history with education, their geographic conditions, their institutional capacities all differ," she says. "But many of their education problems are the same—difficulties in providing schooling opportunities, an emphasis on rote learning, and the bureaucratic rigidities that make reform almost impossible. In all of these countries, the majority of parents want their children to learn, but those children who remain at home often do so because schooling facilities are not accessible."

Over her long career, Rugh finds education is important to the very fabric of societies. "Every school system in the world seeks to produce the educated adults the society expects," says Rugh, "whether that means independent, problem-solving adults or those with refined manners befitting educated persons. That means a program that works in one culture might be resisted in another." Rugh says that many development experts neglect this integral aspect of development. "Experts sent out to other countries rarely test whether their methods and solutions work in a new context."

But Rugh says that these challenges are what make the work fascinating. "What makes this work interesting to me," says Rugh, "are the conflicting ideologies and cultural perspectives that produce challenges every day in the field."