Student Success Story
Academia Meets Activism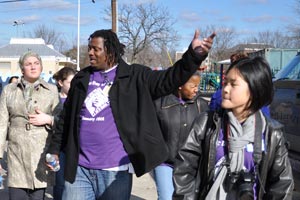 For Kalfani Ture, research and volunteerism intersect at Barry Farm Public Dwellings, a public housing complex just off the Anacostia Freeway. Since the anthropology doctoral candidate began conducting ethnographic research in the community in 2007, he has also taken on roles as a volunteer member of its resident council.
"It's common for anthropologists to collect the stories of their research participants by working, living, and engaging in the lives of those participants," says Ture. "My ethnographic research has actually become secondary to my work with underprivileged communities."
Ture became involved with Barry Farm while writing a paper for which he examined the area as an archaeological site. Once a plantation, the land was purchased shortly after the Civil War by the Freedman's Bureau, which parceled out one-acre plots to ex-slaves and free blacks. "Social forces from then on have pushed the majority of low-income African Americans to the southeast quadrant where Barry Farm is located," says Ture. These findings interested him both as an anthropologist and a social activist, and they inspired him to write his doctoral dissertation on the Barry Farm community.
As a recent president of AU's Graduate Leadership Council, Ture organized two academic conferences for graduate students that facilitated communication between students and residents of Barry Farm and similar local communities. "My goal was for graduate students to realize that Washington is a living laboratory with real social justice issues," says Ture. "Student involvement in the wider community makes sense because theoretical learning is best confirmed through practice."
Ture's commitment to social justice stems from his childhood. Growing up in Newark, New Jersey, in the wake of the 1967 riots, Ture remembers listening to his parents theorize about the role that discriminatory treatment of African Americans may have had in causing the riots. "[The stories] are about absence of appreciation for human life, about the thousands of lives affected by racism and oppression in devastating ways," Ture recalls. He sees similarities between pre-riot Newark and present-day Barry Farm, and he believes the social activism taking place there is helping to avoid similar unrest.
Ture served as a police officer in the Atlanta metropolitan area prior to pursuing his doctorate in anthropology. "I continuously worked in at-risk spaces with the hopes of resolving community homicides and violence among African American adolescent males," he says. "The experience helped me realize that at-risk children are not born that way, but created by social policies, community and infrastructural disinvestment, displacement, and the introduction of guns and drugs [into their communities]."
After graduation, Ture intends to stay committed to his own volunteerism while impressing upon his students the importance of maintaining a strong academic presence in the public service sphere. "My training in anthropology has caused me to realize that social transformations must begin with students," he says.
~from "Academia Meets Activism," Connections Magazine, Spring 2010.