Student Success Story
Vital Research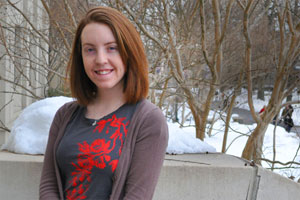 Premedical student Taylor Dempsey, BS biology '12, is getting hands-on research experience early in her undergraduate career. With guidance from biology professor Katie DeCicco-Skinner, Dempsey is working to identify certain genetic causes of skin cancer in laboratory mice.
Dempsey, DeCicco-Skinner, and the rest of the research team have identified Tpl2, a gene that, when absent from mice, presupposes them to squamous cell carcinoma (SCC). In a laboratory at the National Institutes of Health, DeCicco-Skinner and graduate assistant Sabrina Nolan subject embryonic mice's stem cells to the chemical TPA, a SCC promoter. They work with two types of mice: knockout mice, which don't have the Tpl2 gene, and wild type mice, which have the gene and serve as experimental controls. In the research, 80% of the knockout mice developed SCC, as opposed to 12% of wild type mice.
The knockout mice also have higher production levels of inflammatory proteins and a higher incidence of SCC tumor creation. They believe this is the result of a various protein production pathways creating excessive amounts of inflammatory proteins to overcompensate for the absence of the Tpl2 pathway.
This is where Dempsey's research comes in. She is determining which of these protein production pathways are responsible for activating tumor growth factors. At NIH, DeCicco-Skinner and Nolan remove proteins from the cells of the mice. In a Hurst basement laboratory, Dempsey takes these extracted proteins and runs them out on a gel, from which they can be transferred to a special membrane. She then places antibodies on the membranes. These antibodies bind to the proteins, allowing her to visually identify which protein production pathways have been turned on. For example, when a Cox-2 antibody binds to a Cox-2 protein, Dempsey can look at the relative expression of the pathway in the wild type and knockout mice proteins. If there is higher Cox-2 expression in knockout mice, she knows the pathway is involved in tumor growth.
The process is lengthy. Though there are numerous potential pathways, Dempsey can only test four a week because she must test each pathway numerous times in order to verify conclusions about its role in tumor growth.
"When you don't know if all of them are actually involved, you kind of have to guess to figure out which ones are," says Dempsey. "Once we figure out which ones are involved, we will knock out those pathways and see if cancer stops."
Dempsey hopes to still be involved with the Tpl2 project at that point. She has submitted an abstract about her findings thus far to the American Association for Cancer Research and hopes to present at the association's conference in April, which over 40,000 researchers from across the globe attend.