Student Success Story
AU and Bioremediation
Green Solutions to Age-Old Problems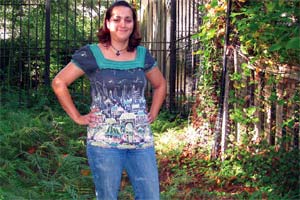 Cristina Cardona is making local soil safer and she is doing it in an environmentally-friendly way. The environmental science MS student is researching bioremediation, a cutting-edge technique of removing harmful chemicals and metals from the environment without damaging natural flora and fauna.
Traditionally, these materials are removed from contaminated soil in ways that harm the local ecosystem. An example of these methods is dredging. This process involves digging up the contaminated soil and disposing of it in a landfill a practice that literally turns the ecosystems upside-down in the process of decontaminating the soil.
By contrast, bioremediation involves strategically planting flora that help draw the pollutants out of the soil, essentially purifying the soil without having to dislodge it.
In the Spring Valley neighborhood adjacent to American University's campus, Cardona facilitates the use of brake ferns to remove arsenic from the soil. The process begins in May, when brake ferns from Florida are transported to Washington, D.C., in overnight shipments. The ferns are transferred into the contaminated soil immediately upon arrival. Cardona cares for the fledgling plants with a monitored sprinkler system and fertilizes them to ensure that they stay healthy.
Each fern survives until October, when the weather gets too cold for the typically southern plant. At this time, the plants are harvested and their fronds are tested for arsenic levels.
According to the Environmental Protection Agency, safe levels of arsenic in soil must be at or below 43 parts per million. In the areas where Cardona is working, arsenic levels in the soil have tested at as high as 100 parts per million--but, since bioremediation began, these numbers are dropping. Cardona is confident that the ferns will reduced the arsenic levels of the area's soil to as little as one part per million if they continue to be properly planted and maintained each year.
Cardona has been conducting this work through Edenspace Systems Company, a Virginia-based group dedicated to researching and promoting bioremediation projects. In addition to her work in Spring Valley, Cardona is conducting research on the water supply in Fairfax, Virginia. "Their water supply is full of runoff and pollutants," she says. Cordona is exploring ways that bioremediation techniques can be used to clean these water supplies as well.
Adapted from "American University and Bioremediation: Green Solutions to Age-Old Problems," by Jordan Maidman, Catalyst Spring 09.