Alumni Success Story
From AU to IBM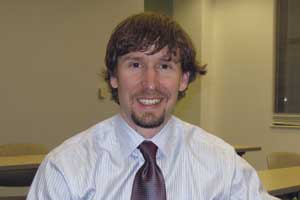 When Bill Edgar came to American University in 1997, his path seemed fairly straightforward: He would earn his master's degree at the renowned School of International Service and begin a career in international relations. Now, the 2009 alumnus of the College of Arts and Sciences' graduate computer science program wonders how he got from point A to point B. 
The answer, it seems, lies in his willingness to follow his passion. When he landed a co-op position at the U.S. Department of State through AU's CareerWeb during his second semester, he was placed in the computer systems division. The position reminded him of time he spent as an undergraduate working in the computer center at the University of Akron in Ohio.    
"I never thought of [computer science] as a career," he says. "But then I got down here to AU and got a job at the help desk in the Computer Center [through AU's Office of Information Technology] and the co-op at the State Department, and that made me realize what I really enjoyed."  
Edgar eventually earned a full-time position in information technology and consulting at the Department of State. He worked and went to school part time in the evenings until the spring of 2000, when he and several colleagues founded a company called Novus Consulting Group, which provided computer software development and IT consulting services. Novus grew rapidly to about 130 employees when Edgar and his partners sold the company to IBM in 2007.  
Edgar currently runs a team of 25 software developers at IBM in Manassas, Virginia, that caters to a wide array of corporate powerhouses. While he is comfortable at IBM, Edgar relished the opportunity to recapture the hands-on side of computer programming as a graduate student at AU. "It [was] nice to be able to come here and work on a master's thesis, where I [was] getting really technical. I don't get many chances to do that at my job," he says.  
Edgar savored his time working with AU's computer science faculty, notably Michael Black, Michael Gray, and department chair Angela Wu. "The faculty is small, but as a result you get to know them very well and they get really interested and involved in what you're doing," Edgar says.  
He has also used the connections AU gave him to create opportunities for younger students. He helped Priyanka Komala, CAS/MS '08, get a job at an agency in D.C., and he mentored Pavneet Singh, a 2008 graduate and member of AU's 2007 computer programming team. He has also helped several students earn paid internships with IBM in Manassas.  
"I think in D.C., whether in the IT field or whatever field you're in, there are a tremendous amount of resources," Edgar says.  
Adapted from "From AU to IBM," Catalyst, Fall 2009.