Student Success Story
Student-Athlete Excels with Support of Albert Scholarship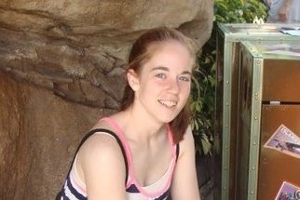 For Mary Callahan, CAS/BS '13, attending American University offered the best of both worlds: The ability to play Division I soccer and the opportunity to study biology at a school located "in the middle of everything." A rising junior, Mary turns in her lab coat for her soccer uniform after a long day of classes, a life she loves, but describes as "organized chaos." She shares that receiving the Sam Albert Scholarship was the help she needed—a gift that allows her to focus on both her studies and soccer.
The Sam Albert Scholarship honors the memory of its namesake, Sam Albert, CAS/BS '54. During his time at American, Sam demonstrated a commitment to academics and student life, earning his degree in mathematics while serving as captain of the men's tennis team and president of the Class of 1954. The scholarship provides assistance to students who demonstrate academic excellence, letter in a varsity sport, and exemplify leadership and interest in campus life and community service. 
Having been named twice to the Patriot League Academic Honor Roll, Mary embodies the spirit of Sam's legacy as an exceptional scholar-athlete. This summer she is applying knowledge from her biology classes as an intern for the United States Department of Agriculture, conducting research on the effectiveness of water filters used for irrigation systems.
Mary also mirrors Sam's appreciation for leadership, which is why she loves her position on the field as goal-keeper. "As a goalie you're at the back of the field, you can see everything and you can instruct everyone; you have that leadership role and it's a big responsibility."
The Sam Albert Scholarship has assisted students like Mary since 2003, when the fund was established through the generosity of Gavin Albert in memory of his father. With the support of the scholarship, Mary is eager to return to the classroom and soccer field for her junior year.