Alumni Success Story
Arts Alum Combines Culture
and Community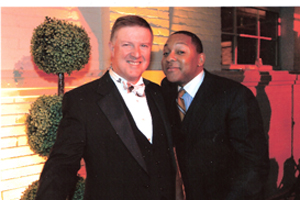 "My parents were horrified," says Douglas Wheeler, CAS/BA '62, CAS/MA '64, about his decision to become an arts presenter. Going into the arts was a risky – far from lucrative – career choice in the early 1960s, he recalls. Armed with two degrees in economics, a knack for organizing events, and a love for performing arts, that is exactly what he did when he asked Washington, D.C. impresario Patrick Hayes for a job at the newly established Washington Performing Arts Society (WPAS).

One of Wheeler's professors at AU was Evelyn Swarthout, a classical pianist who was married to Patrick Hayes, owner of the Hayes Concert Bureau that brought all the popular artists of the day to Washington stages. The two men met when Wheeler produced a show on the university's radio station, WAMU, on federal aid to the arts, which Hayes moderated with a panel of guests. "I would be good at what he does," Wheeler recalls thinking at the time.

The rest is history that spans nearly five decades of incubating local talent and bringing national and international artists in genres such as classical, jazz, gospel, dance, and international music to Washington audiences.

In addition to more than 60 performances each year, WPAS, an independent, nonprofit professional arts organization, forges community partnerships through educational projects with schoolchildren and develops innovative art forms with emerging artists.

An Arlington, Va., native and life-long resident, Wheeler is committed to community development through the arts. As president of the WPAS from 1982 until his (active) retirement in 2002, he has created opportunities for Washington artists to perform on local and international stages.

Wheeler recalls one of his greatest accomplishments as identifying and inviting fledgling young artists – Wynton Marsalis, Midori, Yo-Yo Ma, and Luciano Pavarotti – to give their first recitals in Washington.

As president emeritus of WPAS, Wheeler is still active on the local arts scene. In addition to working on special projects with nonprofit organizations, he is developing WPAS's Legacy Society and serves on several national boards.

Wheeler's formerly risky career choice is now a sophisticated graduate program in Arts Management in AU's Department of Performing Arts, where he frequently lectures and draws interns to WPAS.