Alumni Success Story
New Sociology '10 Grad Proves Persistence and Networking Pay Off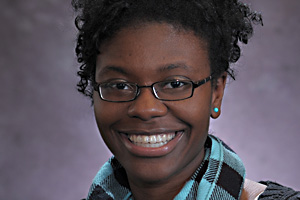 Carimanda Baynard, CAS/MA '10, became interested in Hurricane Katrina following her sophomore year at Washington College in Chestertown, Md., in 2005. "The effects of Katrina made me examine social class and race issues and led me to doing my thesis for my undergraduate degree on the pre- and post-effects of Katrina on children," she remarks.
Baynard knew she wanted to continue her studies and get a Master's degree, but it wasn't until one of her professors told her about a new program at AU in public sociology that included a mandatory internship in social activism that Baynard knew where she wanted to be.
Building on her experience working in the Washington College Career Center, Baynard began working part time in the AU Career Center in June 2008 and started her Master's that fall. After exploring more than 50 internship programs and networking with a fellow AU alum, she found a perfect fit with the Corporation for National and Community Service, the federal agency that runs Americorps. Under the supervision and mentoring of Hank Oltmann, SPA/MA'78, Carimanda completed a year-long internship focused on the critical care needs of children following disasters. The internship proved to be challenging and rewarding beyond her expectations. Within two weeks she was sent to Mississippi to help plan the agency's ongoing response to the devastation across the Gulf, and she was gratified to be part of such an important effort.
In March 2010, Baynard jumped at the chance to go to New Orleans for the "Alternative Spring Break" program. "I promised the people of New Orleans that I would never forget their struggle and would continue to voice their concerns and tribulations," says Baynard.
The focus of her Master's thesis examined media coverage of Katrina and the role of social demographics. Upon completion of her degree in May 2010, she capitalized on another contact she had made while serving at the Corporation for National and Community Service, and took a short-term internship at Save the Children to work on their disaster response program while continuing her search for full-time employment.
Her experience at these internships, coupled with her AU education and determination, set the stage for her new position as the disaster preparedness specialist at a local government contracting agency where she began working in June. She serves as a liaison between the agency and other government agencies leading trainings and conferences on behavioral health-related issues in catastrophic situations.
Baynard appreciates the guidance she received and the opportunities she pursued through the AU Career Center and her internship. She offers the following advice to other students and new grads in the job market:
Take advantage of the resources available at your college career center.
Start your job search early--at least 6 months in advance.
Don't be afraid to take administrative jobs to get your foot in the door.
Know that looking for a job is a full-time job in itself.
Never stop networking!
Have a consistent area of focus that you build on with your studies (as she did with Katrina).
Baynard is proof positive that finding the right job is more than possible through hard work and a systematic job search.