Alumni Success Story
Sites' New Book Looks at the Shadowy Cost of War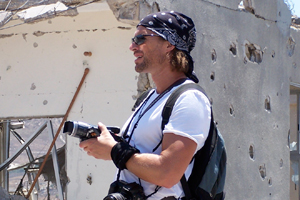 Communication alumnus and award-winning journalist Kevin Sites' new book The Things They Cannot Say is getting rave reviews from around the US.
Sites (BA '83) says the critical reviews are nice, but "the reviews from veterans letting me know the book is helping them to communicate with their families or communities makes it all feel worthwhile."
The Things They Cannot Say took three long years to produce and lives up to its title. "It's difficult to get soldiers, Marines and other service members to talk about their war experiences," says Sites.
In the book, eleven soldiers and Marines display a rare courage that transcends any battlefield exploits -- they share the truth about their wars. For each of them it means something different. One struggles to recover from a head injury he believes has stolen his ability to love, another attempts to make amends for the killing of an innocent man, while yet another finds respect for the enemy fighter who tried to kill him.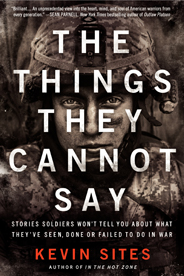 In The Things They Cannot Say Sites compiles hundreds of hours of his own reporting including audio and video footage, email correspondences, interviews with soldiers, Marines, their families and friends, and mines the work of some of war's greatest writers, thinkers and philosophers including Tim O'Brien, Karl Marlantes, J.Glenn Gray, Dr. Jonathan Shay and Edward Tick Ph.D.
Sites says he added to the intimacy of the accounts. " I share the unsettling narrative of my own moral failures during war and the redemptive powers of storytelling in arresting a spiraling path of self-destruction."
What he learns is that war both gives and takes from those most intimately involved in it. Some struggle in perpetual disequilibrium, while others are able to find balance, usually with the help of communities who have learned to listen, without judgment, to the real stories of the men and women it has sent to fight its battles.