Student Success Story
Gotta Dance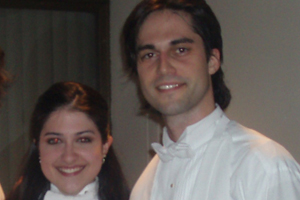 When it comes to connections, AU students and alumni often find themselves separated not by six degrees but by one. Kelsea Edgerly, BA communication and musical theatre '11, and David Covington, BA arts management and musical theatre '02, discovered that recently. There was the series of coincidences: Both grew up near Annapolis. Both studied at Stage Workz dance studio in Millersville, Maryland. Both worked with the Talent Machine Company, an Annapolisbased theater group. And both chose to attend AU. Despite their parallel lives and the near misses, though, the two never actually made contact—until last summer. The setup for their meeting began back in 2005, when Covington was the associate choreographer for the Kennedy Center's production of A Salute to the 1940s Broadway Musical. At the helm of the National Symphony Orchestra was maestro Marvin Hamlisch. In 2008, Hamlisch restaged the show's opening scene for Broadway's Greatest Showstoppers at New York City's Lincoln Center, featuring the New York Philharmonic. Covington reprised his role as associate choreographer.
Tasked with casting 30 tap dancers for the number, Covington put the word out to dance studios about the auditions. Edgerly, much to her disappointment, was out of town and missed the tryout. She got a second chance, however, when another dancer dropped out of the show. "I was devastated when I couldn't go to the audition," she recalls. "I have to say, I am thankful for the person that dropped out, whoever that was."
Rehearsal was a whirlwind. The dancers had just nine hours to practice in D.C. before being shipped up to New York by bus later that same day. "We only got up on stage [at Lincoln Center] for an hour," Covington remembers. "We got one run-through, and then the second number had to be totally rechoreographed in 10 minutes. It was crazy."
The sold-out show began with a ruse: Masquerading as musicians, the dancers came onstage with violins and began tuning their instruments with the rest of the orchestra. Then, on cue, they abandoned their instruments and broke into dance, surprising and thrilling the audience. The dancers got back on the bus that evening and headed home to D.C.
"Working with Kelsea was an absolute treat," says Covington. He later hired her to work as a mentor at a U.S. Performing Arts (USPA) camp. "She proved to be one of our supermentors—and a fantastic teaching assistant."
Edgerly echoes his sentiments: "I felt really privileged to be able to work with David at Lincoln Center and this summer for USPA. He's a wonderful person to work with, as well as a great teacher. His passion for dance and theatre is really encouraging and contagious." The two plan to continue working together, sharing their love of dance through performance and teaching.