Faculty Success Story
Musician-in-Residence Tackles
Beethoven's Piano Sonatas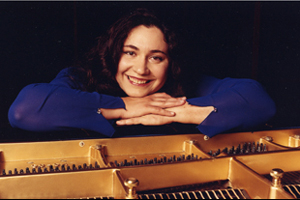 As monumental as the Gorenman Beethoven Project is, pianist Yuliya Gorenman seems destined to undertake it. "I love Beethoven and I have played him my entire life," says the AU musician-in-residence. "Before my very first public performance when I was seven years old, my dad gave me a music score as a gift, and guess what it was? One of Beethoven's piano sonatas."
Spanning eight concerts over the course of four years, The Gorenman Beethoven Project finds Gorenman playing all 32 of the composer's piano sonatas in chronological order—a venture that very few pianists have attempted. The project began in October 2007, with a new installment each subsequent semester. It will continue with sonatas 13-16 on Saturday, April 4, at 8 p.m., in the Katzen Arts Center's Abramson Family Recital Hall.
Facing Childhood Demons through Music
Gorenman grew up in Kazakhstan, a country nestled between Russia and China that was then part of the Soviet Union. As a young performer, she was surrounded by Beethoven's work. "For some reason, they decided he was Lenin's favorite composer, so [his music] was used as a propaganda tool," she recalls.
The government's favorite selection was the "Appassionata" (Sonata No. 23), and Gorenman became intimately familiar—if somewhat disenchanted—with the piece. "Every time there was some kind of event, they would drag me from wherever I was and make me play it over and over again. It took me a while to recover."
"This project," she adds wryly, "was a way to face my demons, so to speak."
Tackling the Project
Approaching the sonatas chronologically has led Gorenman to important discoveries. "Once I began to study the pieces this way, I began to see Beethoven's musical language transformed by each successive piece," she says. "With each sonata, he picks up where he left off. I had never thought about it like that before because I was doing one piece at a time—now I'm looking at it as a cycle. There's definitely continuity."
Sharing with the AU Community
Gorenman is sharing these learning experiences with her students, many of whom are playing the sonatas themselves. And she is relishing the chance to share her work with the university community.
"It's been one of my biggest ambitions of my performing life, and if I have a chance to share it with my colleagues, my audience, and my students, that makes it 10 times more worth it. I'm pretty grateful I have this opportunity—it makes me grow as a musician, which is the best thing in the world."