Student Success Story
Graphic Design Student Makes Splash On-Campus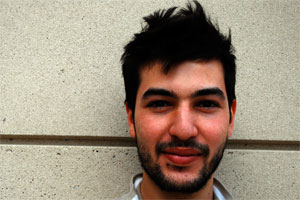 This spring, graphic design student Lamine Laimeche garnered valuable work experience without even having to leave campus.
Laimeche designed the program for CAS's 19th annual Robyn Rafferty Mathias Student Research Conference, which took place on campus in April. After completing a sample cover design in the fall, Laimeche was recommended for the job by Chemi Montes-Armenteros, director of the Graphic Design Program. In the weeks before the conference, he worked closely with its coordinators and the printing company to complete the 16-page booklet.
"Having my work massed-produced and having a final product that people would really use was pretty exciting to me," says Laimeche. "That doesn't really happen when you're just a student."
In addition to giving Laimeche a professionally-produced piece to add to his portfolio before he graduates in December, the project also provided him a valuable opportunity to experience the client-designer relationship first-hand. "The final product was the result of intense communication between me and the organizers," he says. "And honestly, it's been a blast. We worked very hard and came up with something that looks really nice."