Alumni Success Story
Trading Maps for Sneakers: Sporty Alumna Wins Honors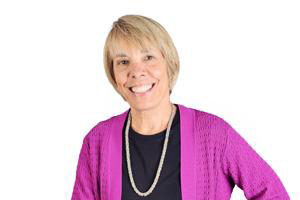 Sitting at her desk more than 30 years ago as an engineering technician in Charlottesville, Virginia, Susan Liebenow, CAS/MS '82, thought she would draw maps for the rest of her life. All that changed the day she decided to take a leave of absence and follow her dreams of coaching tennis.
Growing up near Grand Rapids, Michigan, Liebenow always knew that sports were her calling. "My mother was a real good tennis player, so she taught me. We also played a lot of golf as a family," she says.
While her brother signed up for little league baseball, Liebenow took advantage of the only sport offered for girls in her town: bowling.
Although bowling may not have been her most favorite of sports, she continued through high school and never quit being active. Because there were no serious career opportunities for Liebenow as a young athlete, she decided to major in English in college at Mary Washington College (now University of Mary Washington), until she switched her major to geology/geography with a specialization in cartography.
"I was really into cartography," she says. "I did that for about four to five years after college. I had a real good job with the city of Charlottesville drawing maps for the engineering department."
But drawing maps weren't enough for Liebenow. "I used to sit at my drafting table and think about what I really, really wanted to do, which was to coach tennis. So I left my good job, much to my father's dismay, with good salary and good benefits."
Liebenow headed to D.C., where she began coaching the women's tennis team at Georgetown University. There she met Dr. Robert Karch from American University while giving him a tour of a newly constructed state of the art student recreation center. "While we were touring he told me about a graduate program he was starting at AU. I thought 'Wow, that's exactly what I'd like to do.'"
The Health Promotion Management Program was in its first year when Liebenow decided to go for it. She was attracted to the business side of the program and enrolled as a graduate student. "I remember the day I met [Dr. Karch] I thought 'Boy, I got more from him that day than he got from me.' I thought it was sort of fate that I learned about the program."
Fate met Liebenow again when she and business partner, Susan Torok, CAS/MS ' 83, bid on a Justice Department fitness center contract. They won the contract and pitched in $500 each to start L&T Health and Fitness in 1984.
"It's definitely been fast and exciting," she says. "We started with one contract in 1984, and today we have 50 sites around the country. The business has grown steadily throughout our 26 years."
Liebenow started out at L&T getting her hands dirty on the front lines teaching aerobics classes and washing dirty towels, but now she finds herself a community leader and business success.
Last July, Washington SmartCEO magazine presented Liebenow with their 2010 BRAVA! Women Business Achievement award for her extraordinary business accomplishments and leadership. She was featured with 24 other women in the magazine's July 2010 issue for their success.
More recently, Liebenow has been featured in Washington Business Journal in October 2010 in an executive profile. Her profile details the best and most difficult decisions she's had to make, from buying and selling her business back from a Japanese company, to leaving her job in Charlottesville.
While all the success is great for business, Liebenow says that the best part of her job is being able to leave her office and see her work first hand. "On the job, I'm happiest when we're out visiting our employees and our sites. It reminds me why I got into the business, and it takes me back to the front lines."
She credits her career success to her degree in health promotion management, where she learned to lead. "Don't be afraid to get your feet wet. Get in there. The more you can experience, the better prepared you are to lead."
Liebenow admits that nothing compares to a beautiful day on the golf course with her feet on the green grass—when not in the office, of course.