Research Success Story
Historian Investigates Jamaica's Plants, Botanists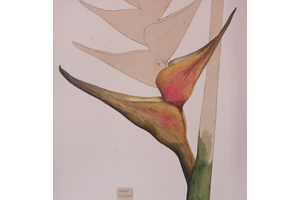 Professor April G. Shelford went to Jamaica to teach at the University of West Indies from 1999 to 2001, but returns to explore the country's rich botanical history. An important part of that history is the more than two-hundred-year-old botanical journals and drawings of Dr. Anthony Robinson (d. 1768), which were recently repatriated to the Institute of Jamaica from the Natural History Museum in London.
During the eighteenth century, interest in botany ran high. The French and the English saw tremendous commercial possibilities in naturalizing East Asian spices and fruits in their Caribbean colonies. The most famous effort was Captain Bligh's expeditions to bring the breadfruit from the South Pacific to Jamaica as food for the island's enslaved population. The first expedition ended famously in the Bounty mutiny in 1789, but the second succeeded in 1793. Jamaicans today continue to enjoy roasted breadfruit with jerk meat.
Shelford knew, though, that many colonists in Jamaica had a lively interest in botany even before Bligh's state-sponsored expeditions – and she went looking for them as part of her new project on the Enlightenment in the Caribbean. She has visited archives in England, Scotland, and Jamaica to piece together a puzzle of who-knew-whom across the island and across continents. "I'm interested in networks, intellectual networks," says Shelford, whose first book was on the seventeenth-century Republic of Letters. Connections between people on the island and their relationships with metropolitan institutions such as scientific societies allowed knowledge to spread more rapidly.
Shelford first came upon Robinson's writing as a physician, botanist, and ornithologist at the National Library of Jamaica a decade ago. The papers there, which include many drawings of birds, appeared incomplete to her. A notebook documenting Robinson's travels throughout the island referred to other notebooks and drawings, for example, that weren't there on the shelves. And Shelford was intrigued by references to Robinson's papers in the accounts of nineteenth- and early twentieth-century naturalists. "I found notes of people in the nineteenth century saying, 'Well, when I was in Jamaica, I saw these documents.' And I thought, 'Oh my God!'"
Shelford was eager to find more of Robinson's papers as he kept copious notes. Robinson received a subsidy from the Royal Society of England to collect "curiosities," which would have included plant and animal specimens. He clearly knew many colonists interested in botany in Jamaica, including slaveholders such as Thomas Thistlewood (the subject of recent biographies by Douglas Hall and Trevor Burnard) and the many physicians and surgeons who investigated local plants for medicinal uses.
From other research, Shelford knew that some Jamaican colonists exchanged seeds with their counterparts in North America. In Edinburgh, she found evidence of exchanges between Jamaicans and the royal botanical garden in Scotland. "I could now see who the various players were," she says. Botany was emerging as an independent discipline, and it became typical of the "improving mentality of the Enlightenment, where learning was supposed to be open to everybody. You had so many people who were involved," she says. Shelford hoped that more Robinson materials, if found, would lead to more details about Jamaican colonists interested in botany and to the recovery of information often not included in eighteenth-century published botanies, for example, medicinal uses of local plants that physicians learned about from slaves.
Shelford came upon a footnote where the author speculated that some Robinson materials had been lent to the British Museum of Natural History (as it was then called) before World War I. She searched the museum's online catalog, but her search yielded no results. As many museums haven't cataloged their entire collections, she still had hope. Fingers crossed, she wrote to the museum, asking if the materials were there. To her amazement, they wrote back in January 2006 to say yes. "I was astonished, completely astonished. At that point, I was ready to jump on the next plane."
Shelford now knew where the missing Robinson papers were, but she had to wait while they were repatriated to Jamaica. Little did she know, in fact, that others had been searching for them. An independent researcher in Jamaica had earlier traced them to London, and the Institute of Jamaica had been on the hunt as well. Then there was a "kind of convergence," Shelford says, with cultural institutions on both sides of the Atlantic working together to bring Robinson home.
During spring break in March 2009, Shelford traveled to Jamaica to see the Robinson documents. She found a warm welcome at the Institute. "It was a dream come true to finally see these documents after waiting for so long," she says. The collection contains extensive transcriptions of Robinson's original materials made by Robert Long, Robinson's heir and member of a prominent Jamaican planter family. They preserve an enormous amount of the information about Jamaican plants and animals, some now extinct, and about the people Robinson met. They also include many of his drawings of plants.
Shelford hopes to return to Jamaica next spring to continue her work with the Robinson papers. While these documents are central to her research, they are more important as a precious part of the Jamaican cultural heritage. An exhibition "Encounters of Natural History" is now in the planning stages at the Institute of Jamaica. In it, Robinson will be in good company with other naturalists who explored Jamaica, including Hans Sloane, author of an important natural history of the island based on his 1687 visit and secretary of the Royal Society for decades.