Student Success Story
Russian History Student Awarded Scholarship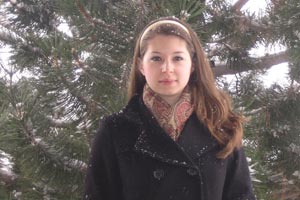 When Abigail Kret, BA history '10, first entered American University as an undergraduate three years ago, she anticipated a career in the Foreign Service. But soon Kret discovered a new passion—history. After taking courses in the French Revolution and the history of U.S.–Latin American relations, Kret walked into a class taught by Professor Eric Lohr and discovered a fascination with Russian history. This student of Russian history and culture has just received one of the Department of History's highest accolades, the 2010 Dorothy Gondos Beers Scholarship.  
Each year the Dorothy Gondos Beers Scholarship is awarded to an undergraduate history student who displays exceptional academic performance and dedication. The criteria for selection include academic performance and the student's personal statement about his or her interests in history and future plans.  
Kret's coursework has covered a wide variety of world history topics that have exposed her to new perspectives and ideas and honed her critical thinking and research skills. Currently, Kret is writing her major seminar paper in history on the interactions between the Soviet and American artistic communities in the Cold War period. This research has taken her deep into both the National Archives and the College's own historical collections, and it has put her in contact with current and former State Department officers who participated in Cold War cultural diplomacy programs. Kret's tireless research and work with new material is contributing valuable new perspectives to this largely unexplored topic.  
Kret's scholarship has also taken her beyond the classroom. In summer 2009, she received a summer research fellowship from the College to pursue her research on U.S. and Soviet art. She has also worked as Lohr's research assistant for the past two years, and she assisted Lohr when he was a member of the Russia/Europe advisory committee for the presidential campaign of Hillary Clinton in 2007–08. "The work that she did was highly effective, and had an impact on Clinton's policy statements and campaign strategies," Lohr says.  
Kret has also given back to the College. She has served as undergraduate representative to the History Council, the Department's governing body, helped revive the AU Russian club, and has worked at the AU Library Archives.  
After graduation, Kret plans to study Russian culture and language at the graduate level and eventually earn a PhD in Russian cultural history.