Student Success Story
Bringing Law Enforcement History to the Public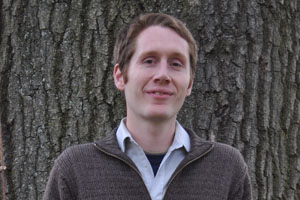 As an intern with the National Law Enforcement Museum, James Nelson is helping tell the story of American social history. Scheduled to open to the public in 2013, the museum will attempt to educate the public on the historical role of law enforcement through a combination of exhibitions and educational outreach.
It's a mission that the history master's student finds important. "I believe that the history of law enforcement in this country deserves to be told, both the good and the bad," says Nelson. "I admire the museum's goal of attempting to bridge the gap between the role of law enforcement and the public's perception of [it]."
Nelson, who specializes in public history, is reviewing the 8,000 item collection database and determining how these objects represent race, ethnicity, and gender within law enforcement. "One of the ultimate goals of the NLEM is to be representative of all law enforcement in the United States," says Nelson. "It was our goal to determine how well their collection would serve this purpose."
Nelson also examined and photographed collection artifacts as part of the museum's efforts to make their collection available online.
The educational outreach mission of the museum is also important to Nelson. "The museum itself will serve as a classroom while museums staff will visit local schools with the goal of teaching kids important aspects of the law, including how to help alleviate social problems like domestic violence," Nelson says.
Nelson chose to pursue public history in order to study and promote history in a non-professorial role. "Public history was a means of exiting the ivory tower and working in conjunction with the public to interpret the story of the past," he says. "My work with the National Law Enforcement Museum was a perfect example of this, as the goal is to tell the often untold stories of different races, ethnicities, and genders in the U.S."
After graduation, Nelson intends to pursue museum work that focuses on shaping the visitor experience. "I hope to be working the front lines, trying to explain how historic artifacts can serve as windows into the past," says Nelson.