Department Success Story
Historians in the Hot Spots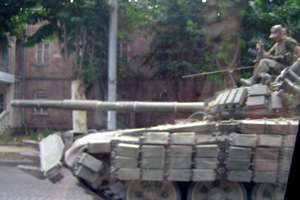 Most Americans are content to consider the war in Iraq from within the safety of their own borders. But Michelle Risinger, BA history and international development '07, is not most people.
After graduation, Risinger, whose undergraduate thesis examined the myths and realities of WWI Red Cross girls, was hired as a historian at the American Red Cross national headquarters, where she had interned as a student. The job offered broad opportunities, from scheduling speakers to writing articles to inaugurating regular visitors' tours of the historic building.
As much as she enjoyed her job, however, she felt pulled to be on the front lines. "The original reason I wanted to work for the Red Cross was because of its work as an international humanitarian organization," she explains. "I realized that I needed to be out there." Last July, Risinger became an assistant manager at the Red Cross station in Baghdad—a job she calls "simultaneously exhausting and rewarding. You really get to see the difference that your work and your presence make, [which] very few people ever get to experience."
Recently, Risinger has begun blogging about her journey. At "Climb in Back," as she calls the online project, she reflects on her experience with historical insight. "The blog is my attempt at making some analytical sense of life in Iraq," she explains. "It's my way of trying to show people what life is like here, while offering some [insight into] why things happen over here."
For Eric Lohr, finding himself in a war zone was a matter of pure happenstance. The history professor was vacationing with family and friends in the Caucasus Mountains in Georgia when he learned that Russia had invaded Georgia.
Lohr specializes in Russian studies and relations; in fact, he was one of Hillary Clinton's advisors on the region where the conflict occurred. But the cloud of misinformation and vague reports that descended on Georgia in those first days was hard, even for an expert, to see through. "Even though we were watching multiple news sources, we just didn't really know what was going on," he recalls. "Everyone [was] speculating, and there [were] wild rumors spreading all over the place." He adds, "I guess this is what's typically referred to as the fog of war— this lack of knowledge and the tension it causes."
Now that the fog has lifted—and he and his family are safely back in the United States—Lohr has begun to revisit his experience from a historical perspective. "Knowing history does help to understand these sorts of events," he says. "You can approach them in one of two ways: either as a social scientist looking at the event in isolation, or by unpacking it and putting it in the context of the long history of events between these two nations."
His students have benefited from his experience as well. "It has very much informed the way I teach about the region," he says. "I'm a student of war, and seeing a war firsthand really does change the way one thinks about it."