Research Success Story
Acts of Omission
Fiona Brideoake examines 19th-century censored Shakespeare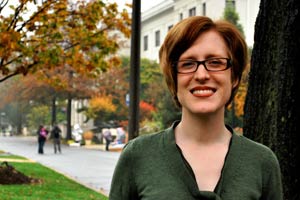 Henrietta 'Harriet' Bowdler edited the first edition of The Family Shakespeare in 1807, but it would be nearly two centuries before she was officially credited for it. The widely popular anthology purged references to Roman Catholicism and sex from Shakespeare's plays—thereby giving us the term 'to bowdlerize'—to make them  "suitable" to be read aloud in the home to young female readers. "There was no way for a young unmarried woman to claim she had actually undertaken the significant intellectual labor of editing and compiling this major text," says literature professor Fiona Brideoake. Nor, she adds, could she have "admitted that she recognized the sexual puns she then rewrote."
Brideoake is currently examining the ways in which both The Family Shakespeare and  the long-standing ambiguity surrounding its authorship illuminate 19th century  British society's ambivalent attitudes towards sexuality, some of which  linger today. "This volume can tell us something, not only about social  mores of late eighteenth- and early nineteenth-century England, but also about  the way in which thinking about sexuality isn't just thinking about sex," she  says. "To think critically about sexuality is also to think about the  way we divide the world into realms of the public and private, and identify  domesticity with a model of the biologically-related, heterosexual family that  only arose in the eighteenth century."
Brideoake's work previously focused on Lady Eleanor Butler and Miss Sarah Ponsonby, better known as the Ladies of Llangollen. In the late 18th century, these two Irish women scandalized their upper-class families when they eloped and set up house together outside the Welsh town of Llangollen. But over the course of the ensuing half-century, their home became a meeting spot for many of the era's most celebrated writers, including authors Hester Thrale Piozzi, Walter Scott, poet William Wordsworth. The two women  became both celebrated and notoriouscultural figures in the process.
Brideoake has compiled her work on Butler and Ponsonby into The Ladies of Llangollen: A Queer Romantic History. The manuscript offers a fresh perspective on the two women and their lasting contribution to literary and social culture. "Previous work on [the Ladies] struck me as being based on reductive and not particularly interesting questions that essentially came down to 'did they or didn't they do it,'"  Brideoake explains. "One of the things I was most interested in [was] how the two women managed their public image in order to deflect explicit charges that their relationship was sexual, while also capitalizing on the fascinated frission that surrounded them. In so doing, they fashioned themselves as a kind of a scrim or a cipher upon which all sorts of often quite contradictory kinds of meanings were being projected."
Brideoake joined the Department of Literature's faculty this fall after  completing a two-year research position at University of Melbourne, Australia. "I  feel incredibly fortunate to be at a school that strikes a balance between  emphasizing research and having faculty members who take themselves seriously  as teachers," she says. This spring, she is scheduled to teach a section  of Interpreting Literature, as well as a graduate seminar entitled Milton,  Gender, and Reason.