Alumni Success Story
MFA Student Inspires Kids to Write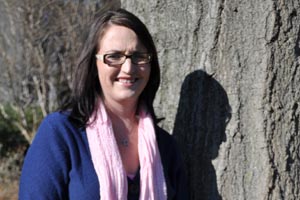 Former high school history teacher Jen Cooper, MFA creative writing '11, spends most of her time in classrooms, and she likes it that way. In the evenings, she is a student in workshops on journalism and the nonfiction essay. During the day, she leads essay writing seminars for students in D.C. Public Schools as a member of 826DC, a nonprofit organization dedicated to inspiring school-aged children to write.
When Cooper discovered the organization—then called Capital Letters—in 2008, the group was in contact with a high school teacher interested in having students write essays in the style of NPR's "This I Believe" program. "I had used that curriculum with my high school freshmen the year before," says Cooper. "So when they asked me if I would be interested in leading the workshops I jumped at the chance to get involved."
This winter, Capitol Letters joined forces with 826 National, a non-profit founded by award-winning writer and publisher Dave Eggers, to create 826DC. The partnership has helped volunteers like Cooper employ increasingly creative and diverse programs in the classroom.
"Having been a teacher, I have a real appreciation for the effort and creativity that goes into planning each of their workshops," says Cooper. "Students can get tired of always sitting in class listening to the same teacher, but through 826DC volunteers can come in with different faces and engaging activities and that can really help students have a fresh experience with writing."
After graduating, Cooper plans to return to teaching full-time. "Working with 826DC has been a small way for me to stay connected to the classroom, but I miss teaching," she says. She intends to continue work on a series of essays on the subject of dementia and to keep finding creative ways to encourage teens to find freedom and self expression through writing.
"It's rewarding to work with students and help them discover their own voices and passions in their writing," says Cooper. "To me, there's a ton of learning that takes place outside of the graduate classroom, and volunteering with 826DC has been one of the ways that I've learned about D.C., about the public school system, and about what works when it comes to teaching youth about writing."