Alumni Success Story
AU Alum Protects Intellectual Property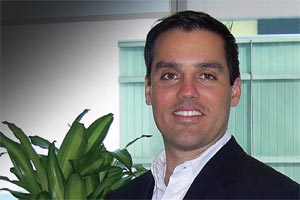 Mark Terry defends the rights of every client who steps through his doors. As a patent attorney at his firm, Terry & Company, Terry provides legal counsel regarding intellectual property assets of companies and individuals.  
But the AU alum didn't get his start in college as a pre-law student. His experience as a math and statistics major at American University led him to the field of patent law.  
Protecting Intellectual Property
At the core of Terry's work is the concept of intellectual property and its protection. Intellectual property—like a song, design, or schematic—drives innovation and profits for many of the world's industries and entrepreneurs. Terry focuses on legally protecting these assets through patents, helping his clients obtain patents or defending people in court whose patents have been infringed.  
As a patent attorney, Terry has worked on a wide variety of cases—from obtaining a patent for a toy company for the invention of a "Jesus astronaut" to working with new technology that shows the best way to drive to a destination and leave the smallest carbon footprint.
The Role of Mathematics
Terry graduated from AU in 1995 with a degree in mathematics and physics. He was a political science major until he took Calculus I with John Nolan, math and statistics professor. "I realized that math and science were just more my thing," he recalls. Soon after, Dan Kalman's modern algebra course solidified Terry's new math-stat major. "Professor Kalman opened my eyes to other [professions] and I thought, 'Hey, companies actually do hire mathematicians,'" he says.  
After graduation, Terry earned an electrical and computer engineering degree from Louisiana State University and worked as a software engineer for Trident Systems. At Trident, Terry developed software programs for the Defense Department. Later, he worked as a patent examiner and a patent associate for D.C. area firm Sterne, Kessler, Goldstein and Fox before moving to Florida, where he started working as a patent associate for the firm Holland & Knight. Along the way, Terry earned his JD from George Mason School of Law with a concentration in intellectual properties. After years at these firms, Terry started his own firm, Terry and Company, which he has been running for seven years.  
For Terry, his mathematics degree from AU helped propel him toward the ultimate goal of becoming a patent attorney. From the beginning, a prospective patent attorney must have a degree in mathematics or the sciences to obtain proper licensing. Additionally, the nature of the job begs for in-depth knowledge in the scientific fields. Terry used his training in math and science to gain the position he holds today, and his background continues to serve him well whenever he meets with inventors to assess possible new products. "If I didn't have a math degree I wouldn't know what they [the inventors] were talking about," he says.  
—Adapted from "Inventors and Scientists: AU Alum Defends Your Rights" by Chelsea Babcock, Catalyst, Spring 2009