Alumni Profile
Growth in Stages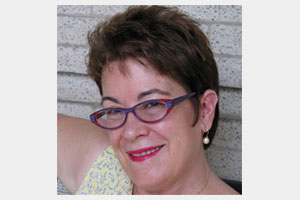 Over the past three decades, Molly Smith has built a reputation on her dedication to promoting the works of new American playwrights. Currently, she is spearheading the completion of Arena Stage's campaign for a new theatre complex.  
As artistic director of Washington's Arena Stage, the College of Arts and Sciences alumna has overseen the Next Stage Campaign since it began in 2002. With well over 100 million dollars raised, the company is poised to open the Arlene and Robert Kogod Cradle in fall 2010, a new performance space that will complement Arena's other two theatres, the Kreeger and the Fichandler Stage. The 200-seat, state-of-the-art Cradle will be dedicated to developing new plays.
The Kreeger and Fichandler are also slated for significant renovations, and the three spaces will be joined to create a 250,000-square-foot theatre complex in the heart of D.C. This space will include classrooms and artists' apartments that will "make the center a true community," says Smith. 
"This is a defining moment in the history of one of America's most important cultural institutions," she says. "Just as Arena Stage's founding forever changed the course of American theatre, so, too, will the achievement of these ambitious goals." 
After beginning her degree in prelaw studies at the University of Alaska–Fairbanks, Smith moved to the District and earned a BA in drama from Catholic University. She received an MA in performing arts from AU in 1976, and CAS awarded her an honorary doctorate in 2001. 
Upon completing her master's degree, Smith and her then-husband packed up their belongings—including 50 used theatre seats—and headed back to Alaska, where she opened Perseverance Theatre in 1979. During her 19 years there as artistic director, Smith coaxed the theatre onto the national stage, directing more than 60 productions and championing new play development. 
In 1998, Smith moved back to Washington, D.C., to become Arena Stage's artistic director. Under her leadership, the Tony Award-winning company has focused on bringing American stories to the stage, producing classics, acclaimed contemporary works, and new play premieres. 
Last season, two Arena productions of new plays, Next to Normal and 33 Variations, moved to Broadway and received 16 Tony nominations and 4 Tony Awards.