Faculty Success Story
Professor Probes Biological Identity's Ethical Issues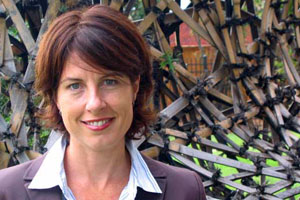 While the quest for self-knowledge has been one of civilization's guiding forces since ancient times, the term's definition is continually evolving. Most recently, it has shifted away from its traditional historical and sociological context and toward a more biologically-defined concept of identity. 
Kim Leighton is examining this relationship between contemporary biomedicine and the ethics and politics of self-knowledge. A bioethics scholar and new addition to the Department of Philosophy and Religion's faculty, Leighton asks what the implications of this 'biological turn' are for ethics and, in turn, how ethical debates about biomedical practices contribute to what we think identity is and why it matters.
"A lot of debates in medical ethics and bioethics evoke and rely on a notion of identity without really explaining what the metaphysics of identity is," she says. "I'm looking at how a particular conception of identity is encouraged through medical and bio-technologies as well as how ethicists are formulating their arguments about those technologies."
One example of this is the recent discussion in the United States and Europe about the ethics of anonymous gamete donation (AGD). "Because children born through AGD cannot know who their donors were, many ethicists are saying that the practice is impermissible, arguing that the anonymity denies the 'offspring' something they should be able to know about themselves," says Leighton. "A lot is being assumed here about identity and the ethics of self-knowledge."
Leighton is currently at work on a book manuscript, Genealogical Bewilderment: The Uncertainty of Self-knowledge in the Age of Genetics. For her next project, she hopes to work in conjunction with the Washington College of Law to investigate "the relationship between bioethics and law and the ways in which the discourse of ethics does—and doesn't— contribute to legal discussions."