Alumni Success Story
Mind Matters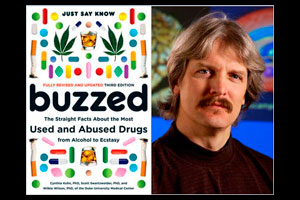 Scott Swartzwelder, CAS/PhD '80, is codirector of DukeLEARN, a Duke University program that seeks to educate society in a scientifically-credible manner about the brain and how to keep it healthy. But the idea wasn't Swartzwelder's.  
A college-aged daughter of a colleague had friends that were considering taking ecstasy, and she called her father for some informed advice. "He basically explained to her, 'No, they shouldn't, and these are the reasons,'" says Swartzwelder. "And she said at that point, 'You know, Dad, you and Scott need to write a book and explain about all these drugs in the same way that you just explained to me.'" 
So they did. The book, Buzzed, explains, in common language, how drug abuse affects the brain, especially the developing brains of adolescents and young adults. The book has been published in three editions and is purchased by guidance counselors, professors, and parents alike. Most importantly, according to Swartzwelder, is that Buzzed is read by many teens and college students.
When the first edition was published in 1998, parents couldn't confidently refer to the Internet for information about substances that their kids may have been using. Even now, the Internet is a spotty source for scientific and unbiased information.
"If you were a parent of teenagers and wanted to have a reasonable discussion with them about drugs and why they should or shouldn't use drugs, there were no good resources," says Swartzwelder. "A lot of times, in those relationships, the kid will know more than the adult, or think they do. Half of the time, the kid's information is dead wrong, but they believe it because they have no idea where to find accurate information that is not coached in scientific jargon."
The success of Buzzed catalyzed the beginning of the DukeLEARN program, which shares an objective with the book: to educate the public about how to use the brain and keep it healthy. Swartzwelder and his colleagues at DukeLEARN emphasize the period of adolescence to adulthood because the brain undergoes critical development during this time that will affect its functioning for life.  
While DukeLEARN initially focused on drugs and the brain, Swartzwelder and his co-directors have recently broadened its focus. Currently, they're working on an educational curriculum for high school students about obtaining—and maintaining—a healthy brain. While students may realize that healthy brains are important for successful learning, the curriculum will also emphasize the brain's importance for socializing, sleeping, and athletic performance.   
The team at DukeLEARN has opportunities to test the curriculum at high schools in North Carolina in the future. Swartzwelder says that they hope to eventually launch a national-level focus on educating the public about the importance of a healthy brain from adolescence into young adulthood.  
Swartzwelder says one of the most gratifying rewards from his work with DukeLEARN has been the response from young people who got their hands on Buzzed or other publications put out by the authors.  
"We get e-mails all the time from kids that will say, 'Thank you so much for finally writing about drugs without being judgmental or moralistic and just giving me the facts,'" says Swartzwelder. "I really appreciate that. That's what makes me feel the best about the whole thing."  
Swartzwelder studied the chemical senses—taste and smell—while a psychology PhD student at AU, and did alcohol studies at Towson University while teaching as an adjunct professor there. At Duke, he is a professor of psychiatry and behavioral sciences.