Alumni Success Story
The Alum Connection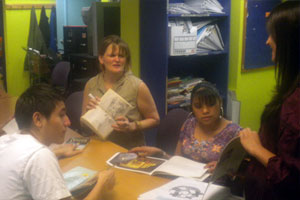 Valerie Whiting, MA international training and education '09, has a unique read on how AU students interact with the city outside their campus. As transitions coordinator at D.C.'s The Next Step Public Charter School, Whiting places students in AU's Community Service Learning Program (CSLP) in volunteer tutoring positions at her organization. AU encourages students to "be part of their community," she says, "They don't just go to school here."
A bilingual school located in the Columbia Heights neighborhood, The Next Step focuses on helping Hispanic high schoolers and young adults who struggle in mainstream schools improve their education and language skills and learn about American culture.
Whiting has been involved with the D.C. Latino community since 2004 when, fresh off a Peace Corps volunteership in Panama, she started working for the Latin American Youth Center's YouthBuild Public Charter School. She enrolled in AU's ITEP program in 2006 and began working for The Next Step while still in the program. Whiting's current position as transitions coordinator includes offering The Next Step students guidance concerning their options after graduation, developing grants and strategic plans around the organization's Transitions Program, and working with student volunteers. "I push the idea that you can work in the international relations field while still in your own backyard," she says.
Run through AU's Community Service Center, the CSLP gives students an opportunity to complete 40 hours of community-based service related to a regular three- or four-credit course they are enrolled in that semester. In exchange, they receive an extra course credit. This semester, a record 71 students are participating in the CSLP's spring program, and 70 of them enrolled in conjunction with courses offered through the College.