Faculty Success Story
Sociology Professor Champions Interdisciplinary Research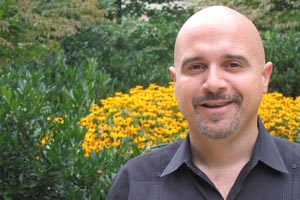 Salvador Vidal-Ortiz is dedicated to bringing his commitment to interdisciplinary research into the classroom.
"My sense is that it is important for students to think of themselves in a multifaceted way where they're not focusing on only one area or even staying within one discipline," the sociology professor says. "It's important to think about the relationship that a project has with other fields of study. At the same time, sociology is a rich discipline, strong in its theoretical, methodological, and social justice applications, and I try to make sure students benefit from the balance between my discipline and others."
In his class Sociology of Latino Studies, students use texts drawn from history, literature, and anthropology to explore the concepts of race, gender, and social justice. In another class, Gender, Sexuality, and Migration, he uses feminist and queer theory as central frameworks to explore migration-related social issues.
In the spring, Vidal-Ortiz and Margarita Jiménez, a PhD student from the School of Public Affairs, proposed a research center to Provost Bass that would connect Latin American studies and Latino studies. Theirs was one of two proposals selected to create a university-wide Center on Latin American and Latino Studies. The center will encourage and support research on a broad range of issues, including policy, economy, politics, sustainability, and language and culture. Vidal-Ortiz hopes that, in addition to its broader goals, the center will bring together faculty members from colleges throughout the university and encourage cross-disciplinary forums.
Outside the classroom, Vidal-Ortiz is completing a book about Santería, an Afro-Cuban religious-cultural practice in which participants are assigned hierarchical roles based on gender and sexual orientation. He says, "In this research, it also became important for me to think about culture, Latin America, and religion together, to not box the study in a traditionally conceptualized notion of religion."