Arts
Young Audiences Learn From the Experts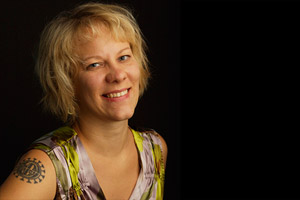 When it comes to the arts, Cynnie Gaasch, CAS '99, has done it all. The studio art MFA alumna has studied dance and visual art, held jobs at nonprofits and arts organizations throughout the northeast, and even had a stint in development at the Vermont Studio Center.
But as she continued working in the arts, she realized that arts in education was the field that suited her best. "It's different from an art or music class," she explains. "It's about experiencing the highest level of an art form intimately, exploring a variety of curriculum topics, and participating through creating."
Now, Gaasch pursues her interest in arts education professionally as the executive director of Young Audiences of Western New York (YA-WNY), a nonprofit, Buffalo-based organization dedicated to promoting the arts in education. In this position, Gaasch says she has found her niche. "It uses all of my interests, talents, and abilities," she says. "I really like to write, I understand the arts, and I value education. I'm also kind of a geek about budgets."
YA-WNY conducts in- and after-school programs led by professional, Western New York-based artists. These programs encourage students to create their own art in a variety of media, from creative writing and theater to musical performance and drawing.
As executive director, Gaasch helps facilitate these education experiences for the thousands of children that YA-WNY reaches every year. In a typical day, Gaasch can be found at meetings with a school, community venue, or funder. Sometimes she can be found meeting with one of the 120 artists that YA-WNY works with from all art forms, including poetry, theater, and music, as well as her chosen forms for self-expression—dance and the visual arts.
Gaasch began her career at YA-WNY in 2002 as the organization's administrative assistant. Later, she was promoted to the role of development coordinator, which put her in charge of most of the organization's fundraising. After taking two years off to pursue a personal grant-writing business venture, Gaasch returned to YA-WNY as executive director since 2009.
"I feel like we're really making a difference in the education and lives of a lot of young people," says Gaasch. "That is a wonderful thing to feel about your job—to feel like you're having an impact."