Student Success Story
Student Earns National Award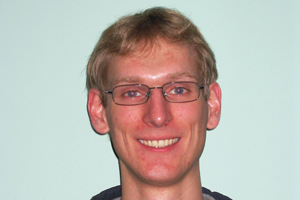 Tim Beck hasn't been a Sigma Xi member for long, but he is already getting attention. After joining the scientific research society just weeks before its annual meeting in November, the post-baccalaureate premedical student was one of four participants to receive a Student Poster Competition Superior Award in chemistry.
Beck received this recognition for his poster presentation on the development of an inhibitor that is expected to disrupt arginine biosynthesis in Stenotrophomonas maltophilia, the bacteria responsible for various nosocomial infections, including meningitis. Because arginine is an essential amino acid, says Beck, "if we disrupt its production cycle, the bacteria's proliferation should be compromised." 
Since the summer, Beck has been pursuing this research under the direction of chemistry professor Monika Konaklieva. The project is being conducted in conjunction with the Children's National Medical Center in Washington, D.C.
Personal Attention Fosters Changed Perspectives
When he entered the post-baccalaureate premedical program in fall '07, Beck planned to strictly apply to MD programs, but his research experiences at AU have inspired him to refocus his sights on joint MD/PhD programs. "Before coming to AU, I had never formally done research," he says. "Here, I've gained exposure not just to scientific research but to the people conducting it. I've gotten to meet and work with people who really love science, and it has changed my attitude towards research and the angle from which I want to approach my own goals."
He adds, "The interactions with the professors and hands-on experiences you get here are not something you see everywhere else. Here, your learning experiences are personal."