Alumni Success Story
Alum Galvanizes Global Peace Efforts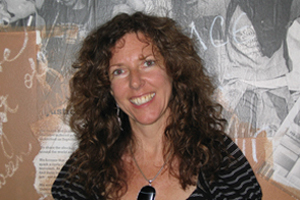 In a world of peace talkers, Karen Dolan, MA philosophy and social policy '97, is a doer. Since 2002, the AU alumna has directed Cities for Peace, an initiative that promotes national and international peace education and action at the local level.
Sponsored by the Institute for Policy Studies, Cities for Peace was born of an earlier project called the Progressive Challenge. "The focus [of the Progressive Challenge] was to empower local communities by networking them with federal lawmakers and encouraging them to be active in national and international politics," says Dolan. "But in the run up to the war in Iraq, most of the projects at the institute switched their focus to trying to prevent the invasion."
Several cities passed peace resolutions to protest the impending war. Cities for Peace began, says Dolan, "to help facilitate these resolutions and put a national movement around what otherwise were a few disconnected local resolutions here and there."
The organization's efforts garnered results. In the months leading up to the invasion, more than 200 cities around the country penned resolutions against the war, which were presented to Congress by city representatives. These resolutions now reside in the National Archives.
Cities for Peace subsequently organized two additional campaigns; a third is currently underway to oppose military aggression against Iran.
Thinking Globally, Resonating Locally
Peace resolutions also trigger a paradigm shift on the local level. Many participating towns have allocated funds for programs that emphasize peace education and global awareness. In Cambridge, Massachusetts, for example, the municipal government even created a position for a peace commissioner. "Cambridge is the model," says Dolan, "for what can happen when there's actually a funded peace commissioner within the town government [who] can devote resources to issues of antimilitarism and redirecting national budgetary priorities."
Dolan began working as an intern at the Institute for Policy Studies while completing her master's in philosophy. "Philosophy on its own can be a very academic, theoretical discipline," she says. "The program at AU combined that with a more practical and political approach. I thought it was the best program to prepare me to work here—and it was."