Research Success Story
PhD Student Patterns
Predictive Patient Behaviors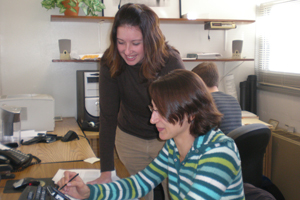 Sue Wenze, PhD candidate in clinical psychology, recently explored the ways depression and anxiety affect focalism. With funding from a Mellon grant, a National Honor Society in Psychology graduate research grant, and Gunthert's faculty research grant, Wenze collected an intensive body of data from 140 AU undergraduates over the course of the 07-08 academic year.
"Almost every study in the field has been about errors the average person has made [self-predicting their moods]," says Gunthert, who is Wenze's project advisor. "Sue is looking at whether or not it might be the case that depression and anxiety make these errors worse."
Wenze hypothesized that depressed participants tend to overpredict negative feelings and underpredict positive, while participants suffering from anxiety overpredict anxious feelings but don't necessarily underpredict positive. She explains, "If the research does show that a depressed person overpredicts their negative feelings, this could become a red flag if you are working with someone who is depressed."
Gunthert offers an example: "If they don't want to go to a party because they are predicting that they are going to have a horrible time anyway, their clinician can point out that their prediction is likely not to match their experience."
Gathering Real Time Data
To collect her data, Wenze asked 140 undergraduates to complete a mood measure and a questionnaire to forecast the feelings they would experience during the following week based on events to come. Each participant carried a Palm Pilot; four times a day, at random, the device prompted the student to answer questions concerning how they were feeling at the time. At the end of the week, participants responded to questions relating to the moods they experienced.
By monitoring the students' feelings in real time, Wenze says, "We [got] data from their real lives, with their real class schedules [and] real time with friends factored in. The data represents their actual experiences and their actual moods."
Wenze's findings mirrored her hypothesis. Depressed participants over-predicted negative mood and under-predicted positive mood, while over-recalling negative mood and under-recalling positive mood. Anxious participants over-predicted negative mood, but were just as accurate as the average person in predicting positive mood, and in recalling both negative and positive mood.