Alumni Success Story
Alum Takes Students on
Overseas Adventure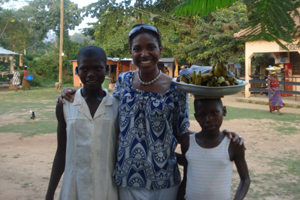 Study abroad programs have long been lauded as a valuable educational tool, but they are less common in high-need schools, where limited funds are often allocated to more fundamental programs. Last April, Kenya Doyle (MAT secondary education '08) seized the opportunity to thwart this trend. The ninth grade social studies teacher at DC's Ballou High School took five of her students on a 10-day trip to Ghana.
Says Doyle, "Through international travel, we hoped that students would come back with a different view of their own society and a desire to continue traveling to help others and continue a cultural exchange."
The group—including Doyle and her students, coworker Jessyca Jackson, and a small student group from a New York City high school—extensively explored the southern part of the country. Their activities ranged from the anthropological to the scientific, and included wandering busy marketplaces, visiting small rural villages, walking under a rainforest canopy and exploring old slave quarters.
Making it Happen
Through hard work and generous donations, each student's trip was fully subsidized. It was funded in large part by a $10,000 donation from the Kinsey Foundation, a charitable organization dedicated to improving the lives of children through education and health initiatives. School fundraisers supplemented the grant award, along with the students' own efforts reaching out into their local communities.
"Our students are from a very high-poverty area of the city, but we still had students who raised as much as $1500 on their own so that they could come," says Doyle.
Researching the Results
The trip was also the basis of an international education research project for Tom Bishop (MA international training and education '08). Before the trip, Bishop conducted interviews and administered questionnaires to the students on their travel experiences up to that point. He repeated the process upon their return. His findings indicated that the students' cultural perspectives broadened as a result of the trip.
Bishop, who teaches English at Ballou, hopes his results help garner him support to start a for-credit summer study-abroad program at the school that will sponsor additional trips to Africa. Bishop says, "Many kids at our school have never been outside of their neighborhoods. These trips broaden their perspectives on humanity and open their minds."