Research Success Story
Professor-Student Team
Collaborates Overseas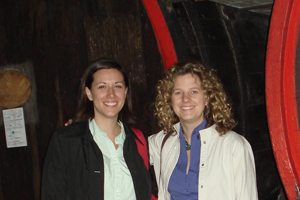 When education professor Elizabeth Worden encouraged Amy Simms, MA International Training and Education '09, to join her on a recent research trip to Moldova, it was not as her teacher—but as her colleague and collaborator.

In the summer of 2008, Worden traveled to Moldova to research the implementation of controversial new history curricula there. Funding was provided by an Individual Advanced Research Opportunity postdoctoral fellowship from the International Research and Exchanges Board. Her fluency in Romanian enabled her to work with communities where that language was spoken, but she didn't speak Russian—another language commonly spoken there. This would have limited her fieldwork—but Simms, who does know Russian, stepped in and bridged the communication gap during her three-week stay.

Simms also pursued her own research on the Future Leaders Exchange (FLEX), a scholarship program funded by the U.S. Department of State. Funded by CAS's Robyn Rafferty Mathias Fund and a SETH travel grant, Simms examined the program's impact on participants.

"Elizabeth was supportive of me and encouraged me to apply for a CAS grant," says Simms. "It's been really fun to do the research [with her] and have research that's my own." Worden and Simms each presented their Moldovan research at the Comparative and International Education Society's annual conference in March 2009.

During their stay in Moldova, the two women shared an apartment. At the end of the day, they would come back and share their work and experiences, an unusual opportunity for international researchers. 
"Rarely do you have someone you can talk to about your findings in your own language [while abroad] and . . . in a way that allows you to express unformulated thoughts and ideas," Worden says. "It was really helpful in furthering my own thinking about my data, my interviewees, and subjects. At times I would help Amy with coding and interview questions, but Amy helped me just as much as I helped her. It was a happy discovery to find out that you can have a collegial and supportive relationship with a student." 

When they returned to campus for the fall 2008 semester, Simms says "we missed having that person to bounce ideas off."

On her return, Worden started an on-campus research and writing group in the Curriculum Resource Center. The small group of professors and graduate students meet weekly to give and receive feedback on each other's research. Simms, a member, is considering the group's input as she interprets her FLEX program data for her master's thesis. "Nothing makes doing research more exciting than hearing other people get excited about what you're doing," said Simms.