Alumni Success Story
Alumna Transforms Youths' Lives through Baking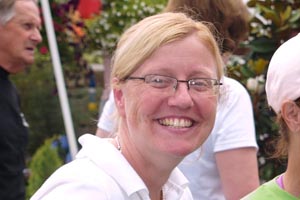 If someone told you they were promoting social justice through baking, it might be hard to believe—but talking to Elin Ross, MA anthropology '95, the links between the two are obvious. Ross is founder of Cakes for Cause, a Frederick, Maryland-based non-profit organization helping at-risk youth learn essential work and life skills through baking.
"We're trying to teach [a sense of] discipline, awareness, and self-evaluation for kids who have aged out of foster care or are in public housing, who may not have a family support network to help them be successful," Ross says. "Pastry making is something that kind of lends itself to a program like this—there's technique to it, there's detail to it, and there's structure to it."
Learning Life Skills

The program will hire as many as a dozen young people aged 16–21 to operate the Cakes for Cause bakery, located on North Market Street. For six months, they will each work 30 hours a week. Participants will begin in the kitchen, where they will learn how to bake various high-end desserts; they will later be promoted to positions at the front of the house.
In addition to providing work experience, Cakes for Cause will help its participants develop skills necessary for them to be self-sufficient once the program has ended. Ross explains, "A big part of our curriculum is addressing questions like, 'What do you wear to an interview?' and 'How do you put together a resume and cover letter?' Our goal is to figure out ways that we can help these kids be successful as adults."
A Sweet Beginning

The organization's site is currently under construction, with a grand opening planned for late spring. The program will accept its first applicants in late spring/early summer 2009. In the meantime, Ross says, "we're trying to create a buzz around our product." So far, it's working. After being sold sold at the Frederick Farmer's Market all summer, Cakes for Cause baked goods have gathered momentum and gained reputation. This winter, the organization sold over a 100 boxes of gingerbread and sugar cookie dough as part of their holiday cookie fundraiser, and its baked goods were sold at the Maryland Ensemble Theater's performances of A Christmas Carol.
Ross is uniquely qualified to lead this venture. In addition to having a degree from L'Academie de Cuisine—a culinary arts school in Gaithersburg, Maryland—she has worked with at-risk populations for over 15 years. Most recently, she has been devoting time to the International Youth Advocate Foundation, an organization that recruits foster parents and provides social support for foster families.
Ross attests that her experiences as an American University master's student also helped prepare her for starting Cakes for Cause. "People will say, 'You have a master's degree in anthropology. What exactly are you doing? How does it fit in?' But I really think it does," she says. "I am using my AU education almost every day in terms of how I relate to people, and how I identify with the needs of the communities and individuals I work with."