Education & Teaching Success Story
Poet-Alum Shares Writing Secrets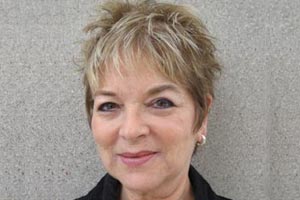 Last September, poet and translator Barbara Goldberg spoke at American University as part of the annual Visiting Writer's Series, sponsored by the Department of Literature's Creative Writing MFA program. An AU alum, Goldberg is a poet and translator whose most recent book, The Royal Baker's Daughter, is the winner of the 2008 Felix Pollak Prize in Poetry, selected by David St. John. She is the recipient of two fellowships from the National Endowment for the Arts and is the co-editor of two anthologies of Israeli poetry, including After the First Rain: Israeli Poems on War and Peace. Goldberg is also the co-translator of The Fire Stays in Red, by Ronny Someck.

Below, Goldberg shares her thoughts on the writing process, her evolution as a writer, and where she finds inspiration for her work.

In Capital Letters: What authors/poets/books/poems/stories/writing do you return to again and again?
Barbara Goldberg: Brothers Grimm; The Book of Stratagems; Yeats; Robert Bly; James Wright; Louise Gluck; Charles Simic; Wislawa Symborska; Julio Cortazar; Jack Gilbert; Another Republic: 17 European and South American writers (ed. Simic, Strand).

What is your favorite and least favorite part of the writing process?  The most surprising? The most challenging?
Least favorite: generating the first draft. Surprising: how different line breaks and different sequence can get to the underbelly of the poem. Challenging: finding the exact right word or phrase, not "closing" the poem too soon, keeping process open until I am surprised or end up in a totally unexpected place.

What was the first piece of writing you ever wrote, and when? 
 "Little Miss Fuss-budget" stories, throughout elementary school.

Are certain techniques central to your writing?
Getting rid of flab, "cutting your darlings." Experimenting with line breaks—unexpected, to create suspense, take advantage of puns.  Stanza breaks: whether to let the poem "breathe" more or less; whether to make the poem dense and even more compressed (first draft is always a "lump"); to have linguistic or narrative tension in each line.

Are certain themes central to your work? 
Exile—one foot in, one foot out; Chaos (Master of Chance) vs. Clarity (seeing things slant, negative capability). Film noir-ish, apocalyptic vision vs. playfulness, mischief; mother/father relationships, often thinly disguised ("Fortune's Darling"); the unconscious coming to light—fairytales, parables, allegories.

How have those themes changed over the years? 
Used to love three-somes, i.e., triangulation of relationships (see Yeats, "Three Bushes," and Lady Murasaki's "Tales of Genji").  Today [my] vision is darker, but gentler re: human foibles, less judgmental, more compassionate; seeing things "slant," not solely from child's perspective and more subtle, more complex motivations, etc.  Have always had interest in "going out of my own skin," and seeing through the eyes of others, either historical or imagined characters.

How do your poems come to you? For example, is it by an image, character, line, phrase, idea? 
Often by a word that enthralls ("spitcurl");  or of a very particular remembered scene ("Aluminum") or image (demonstrators from both sides wearing tee shirts and baseball caps);  or a situation (learning late in life that my father had a mistress—and then imagining who she could be); idea ("Elementals" after reading "The Man Who Loved Only Numbers"); reading other poets where a phrase or a mood strikes me; in short, all kinds of ways, including from newspaper and TV. 

Do you have a set writing schedule/any writing rituals?
Wish I did.  These days I compose most often directly on the computer.  Before, handwritten on yellow legal pads.  I like a relatively clear desk; prefer to write after coffee, but pre-speech.  Revise while walking, on the metro, or thinking directly about the problem at hand in an obsessive way.  Also, poems seem to come out from my fingers—i.e., by keystrokes, perhaps because I played piano as a child. 

If your life had a theme song right now, what would it be?
"Slip-Slidin' Away."

What projects are you working on right now? 
Working with composer to write lyrics from letters of Thomas Jefferson—from both formal letters and household lists.   Also translating/putting together manuscript by Israeli poet Moshe Dor.

If you weren't focused on writing, what would you be doing? 
Studying neuroscience.  Learning Hebrew.