Alumni Success Story
AU Alumnae Featured in Most Powerful Women List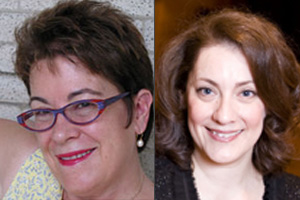 Each year, the Washingtonian publishes its list of Washington's 100 most powerful women. Two American University alumnae, Monica Jeffries Hazangeles, president of Strathmore, and Molly Smith, artistic director at Arena Stage, made the list.
Monica Jeffries Hazangeles received her MA in arts management from AU in 1996. Seventeen years ago, she began working with Strathmore, the arts center in North Bethesda, Maryland, as the special events coordinator. Since that time, she has held multiple positions within the organization and just last November stepped into the role of president. Her new duties include overseeing the day-to-day activities and administration.

Hazangeles is excited about leading the organization and looks forward to fostering creativity by letting people be "wild in their thinking." One such "wild" idea was to do away with the subscription program in 2010, completely opposing what most other performing arts organizations were doing at the time. The plan has been successful, as Strathmore recorded over $3 million in ticket sales last year and is on pace this year to surpass that amount by 12 percent.

Hazangeles credits her time at AU as a major reason for her success. As a student in the Arts Management Program, she was able to form relationships that have served her well throughout her career. Building real relationships, she says, is an important part of any arts manager's career. She also stresses the importance of taking on internships, volunteering, and making connections with AU faculty. "Put yourself in the way of a lot of things," says Hazangeles. "There is no substitute for actually getting into something and doing it."
Molly Smith received an MA in performing arts from AU in 1976. Soon after, she returned to her home state of Alaska, and in 1979, opened the Perseverance Theatre and served as its artistic director for the next nineteen years. In that time, she directed over sixty productions, started a new play development program, and grew the organization into what it is today—Alaska's flagship theatre.

In 1998, Smith was hired by Arena Stage to be their artistic director. She immediately began to retool the mission and branding of the organization. While Arena Stage, which was founded in 1950, had done well over the years, the organization didn't have one specific, unifying brand. Smith led the charge to make Arena Stage the "national center for the production, presentation, development and study of American theater."
Under Smith's leadership, Arena Stage has transferred two shows to Broadway, Next to Normal and 33 Variations, which collectively received sixteen Tony Award nominations and won four. Smith also oversaw the construction of the new Arena Stage at the Mead Center for American Theater, which opened in October 2010. "This is a defining moment in the history of one of America's most important cultural institutions," said Smith in an article in the Fall 2009 issue of Connections.

To find out about Hazangeles's plans for Strathmore, visit www.strathmore.org and to follow Smith's leadership at Arena Stage, visit www.arenastage.org.