On Campus
Get Groovy for Final Perk!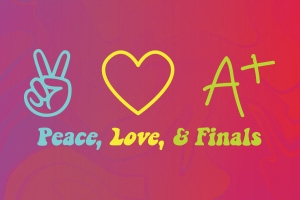 Take a break before diving into finals with the library's semiannual Final Perk study break. This semester's event will take place on Tuesday April 30 from 7 to 8:30 p.m. (or while supplies last). The study break will take place on the quad (weather permitting – rain site, Mud Box). The event – Peace, Love, & Finals – includes coffee, soft drinks, and cookies as well as gluten-free and vegan dessert options.
In addition to snacking on retro treats (AND the traditional cookies), attendees can look forward to fun giveaways and activities. Gather a group of friends, dress up, and take a picture with our groovy banner or tie-dye your very own Final Perk t-shirt on the quad. Watch out and you might even see an appearance by the AU Library sheep – he's Baaa-nanas for the 70s!
This marks the eighth academic year that the library has sponsored this end-of-semester study break. Important campus partners in this event include the Mud Box Café, Student Government, the Residence Hall Association, Auxiliary Services, the Graduate Leadership Council, Student Activities, Friends of AU Library, and the American University Alumni Association.