Professor's New Book Looks at Media's Depiction of Gays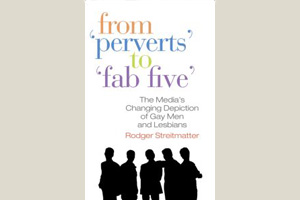 In his latest book, Public Communication professor Rodger Streitmatter argues that the media have made a 180-degree turn in how they depict gay people. He says they have shifted from sending relentlessly negative messages in the 1950's to sending largely positive ones in recent years.
Each chapter of From "Perverts" to "Fab Five" focuses on a particular media product that served as a milestone on the media's journey from demonizing gays to celebrating them—or at least some categories of them—today.
The book spans the breadth of communication venues. Individual chapters focus on specific TV programs, major news stories, and mainstream motion pictures that captured the public imagination while also sending powerful messages.
Among the TV shows that receive detailed attention in the book are Will & Grace and Queer Eye for the Straight Guy.
Major news stories analyzed in the book range from a 1950 scandal about "perverts" serving in the U.S. State Department to contemporary coverage of same-sex marriage.
Films that Streitmatter looks at include Philadelphia, My Best Friend's Wedding, and Brokeback Mountain.
From "Perverts" to "Fab Five" was published by Routledge Press.