Achievements
Student Honored for Feminist Activism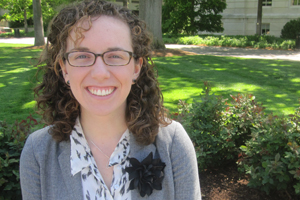 This year marks the inaugural Women's, Gender, and Sexuality Studies Program's Feminist Scholar Activist Award, which was presented to Emily Creveling, BA Women's, Gender, and Sexuality Studies '11, for her dedication and service to feminist activism. 
During her time at the university, Creveling has been a leader on campus for pro-choice related issues, holding positions in clubs and organizations like AU Students for Choice, and has thickened her resume with a wide array of internships and volunteer work in her field, which ultimately landed her a job right after graduation as a counselor and funding coordinator for Falls Church Healthcare Center.
"I do really well with learning by doing, and I feel like AU has helped to foster that by encouraging us to go out into the city and get internships. It's been one of my best experiences here," says Creveling. "I can honestly say I wouldn't have my job now if it weren't for internships and volunteer work I did while at AU."
Creveling stresses her activism is based on the idea of providing direct service to those that need it. Her hands-on approach to social change is coupled with what she considers an invaluable education from the Women's, Gender, and Sexuality Studies Program that has made her the advocate for women's rights that she is today.
"I definitely feel like I've come into my own through my major. I apply what I learned in women's studies every day to my work, and it's made me a better activist and person," she says.
However, dedicating herself to such a controversial issue and putting in many hours per week with these feminist organizations is no easy task. With her primary focus on low income women's access to abortions, Creveling explains that her experience with the pro-choice movement is often filled with heartbreaking accounts of abuse, violence, and poverty.
"The most challenging part is hearing stories and sometimes not being able to help. I hear a lot of sexual assault stories, domestic violence stories, and knowing that I have limited resources and that I'm only one person [are also challenging]," she says. "While I take feminism and this work with me wherever I go, for my own well-being, I have to learn when to let it go sometimes if I can't help somebody."
It's easy to feel overwhelmed by the stories of injustices she hears, but she also says that the women who face such conflict are her driving force to continue the work she does. While answering phones as a hotline operator at the National Abortion Federation, Creveling was able to speak to inspirational women who overcame their situations with resilience during trying times.
"Hearing their stories is what gets me up and going and wanting to be in the abortion rights movement for probably the rest of my life," she says.
With graduation behind her, Creveling will now take all her experience with her as she begins working full time at the Falls Church Healthcare Center, where she will help start a fund for women seeking birth control and gynecological services. She's hopeful that this will be the first stepping stone on the path to opening and managing her own women's center, which would provide healthcare and general wellness services to women, in the future.
"I'd like to open a center that's built on the belief that women have the power to change their own lives, because they do it every day."