On Campus
Women's, Gender, and Sexuality Studies Honor Society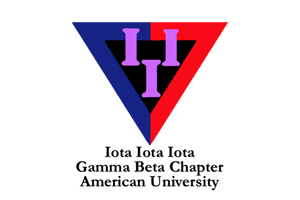 Iota Iota Iota (Triota) is a national academic honor society that works to promote and support academic excellence and to facilitate activist endeavors among students in the Women's, Gender, and Sexuality Studies Program (WGSS) at American University.
Established at AU in the spring 2012 semester, the Gamma Beta chapter of Iota Iota Iota inducted sixteen students as its founding members: Maggie Campbell, Dakota David, Julia Dieperink, Deborah D'Orazi, Rachel Ellis, Crystal Espie (Chapter Co-founder), Mollie Garber, Tonei Glavinic (Chapter Co-founder), Mariel Kirschen, Rachel Lachenauer, Kathleen McKenna, Ethan Miller, Erin Randall, Salina Rivera, Tea Sefer, Hannah Sydnor-Greenberg, and Nora Tumas.
Triota strives to maintain feminist values central to WGSS; it foregrounds egalitarianism, inclusiveness, and the celebration and analysis of diversity in society. Triota works to promote student research and to recognize the academic achievements of WGSS students. Triota affirms and fosters activism and community engagement as central to the development of women's, gender, and sexuality studies. And Triota seeks to unite the WGSS community intellectually, socially and politically through its activities at AU.
For more information on Triota, please contact au.triota@gmail.com.
To apply, fill out the online form.