On Campus
French Colloquium Brings Literature to Life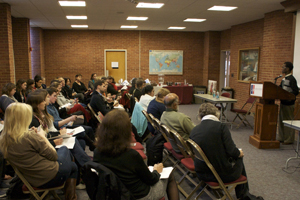 Professor Usasi Chatterjee of the Department of Language and Foreign Studies knows how important it is for students to understand that what they learn in class applies to the real world. "I believe very firmly that there should be classroom learning, but that there should also be learning that goes on outside of the classroom," she says.
Chatterjee, along with SIS grad student Isadora Vigier de Latour, organized the seventh French Colloquium, which took place on Friday, November 11, primarily to help her students make connections to the francophone literature they studied in her La Litterature Contemporaine class. "Students keep telling me that they felt that they got a very comprehensive view of what francophone studies means," she says. "Their idea beforehand was a bit of Quebec here, a bit of Switzerland there, a little bit of Senegal here—rather piecemeal."
The colloquium was broken up into three parts, covering francophone Asia, francophone Africa, and France. Each featured speakers that Chatterjee hoped would get her students to better understand how their classroom learning linked to the larger world. "Through the colloquium, they got to see what the crosscurrents are through literature and music," she says.
To provide the outside connections, Chatterjee brought in Dr. Virander Paul, the cultural attaché from the Indian embassy, and Sarah Pickup-Diligenti, the deputy and educational director of the Alliance Française. Paul spoke about India-France relations and Pickup-Diligenti gave an overview of trends in 21st century French literature with two or three examples of authors that represented each of the different schools or movements.
Chatterjee believes that the involvement of speakers from outside the university extends past their presentations at the event. The Alliance frequently invites leading French authors to speak. If one of Chatterjee's classes chose to read a book from one of these authors, then Pickup-Diligenti said she could bring the author to the university to talk with the students about it. "They could engage in a discussion with the author," says Chatterjee. "What better way is there to make literature come alive?"
While students stand to gain a wider perspective of how their assigned reading can take them past the classroom, Chatterjee also emphasizes how important faculty involvement is to each colloquium. "I always invite outside speakers to the colloquia, but I also want faculty here to participate," she says. "This is the way the faculty get to make connections, to meet other scholars and authors." A number of American University professors were presenters at the colloquium.
Even Chatterjee was able to make an outside connection to her own studies of the work of Ying Chen, a Chinese author who writes in French, through this year's colloquium. She met Dr. Stephanie Cox of Carleton College, one of this year's speakers, while doing research at Yale University last summer. "I found out that one of the texts from my topics class is the one that she's a specialist on," she says. "Dr. Cox is publishing a book next year on her."
Because Ying Chen is a newer author, not much critical work has been done about her writing. Chatterjee's topics class read one of Chen's books this semester, and when they were asked to write papers about it, Chatterjee told them they wouldn't have much to work with when it came to sources. Bringing in Dr. Cox meant they'd get a whole new perspective on their reading. "It was wonderful, because what she talked to my students about helped them to put the book in some kind of context," says Chatterjee. "They were free to ask her questions. This is the great thing about the colloquium—that it's interactive, and attendees can listen, take notes, think, ruminate, and really engage with the speaker."
This year's colloquium was dedicated to the memory of Professor Jack Child, Chatterjee's friend and mentor for 25 years, who was especially inspirational to her when she started teaching at the university as an adjunct professor. "It was he who showed junior faculty that everything they did mattered," she says. "If there's even one voice, one person, that feels that your voice matters, that you can make a difference in your own small way to the department, then I think every sacrifice that is made and every extra hour that is put into teaching is all worthwhile."