Department Spotlight
Ahead of the Curve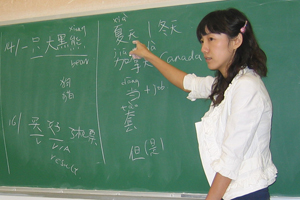 In 2007, the Modern Language Association (MLA) recommended that U.S. colleges and universities situate foreign language study in "cultural, historical, geographic, and crosscultural frames within the context of humanistic learning." This may be news to some, but it has been the mission of the Department of Languages and Foreign Studies (LFS) for decades.
"LFS has always been progressive, always focused on linguistic and cultural competence" says department chair Olga Rojer. "LFS graduates have translingual and transcultural competence and therefore are able to reflect upon the world and themselves through the lens of another language and culture as the MLA advises."
One of the ways that LFS fosters these competencies is through interdisciplinary degrees. The BA in language and area studies—a joint degree offered by LFS and the School of International Service (SIS)—was created in 1968 in keeping with the philosophy that you cannot truly understand a place if you do not speak the language and understand the culture.
In the late '70s, the department inaugurated a joint degree with the School of Communication (SOC). The BA in foreign language and communication media was, in part, a response to this country's growing Hispanic population, which now exceeds 40 million. "Many SOC students study Spanish because they know they can use it in [national], as well as international, media work," says Rojer.
Recently, LFS has collaborated with the Kogod School of Business on the BS in business and language and culture studies. Launched in fall 2007, the degree prepares business students for a global marketplace. Jesse Boeding, director of Kogod's undergraduate studies, says, "The business world is a different place today than it was even yesterday. No longer can we operate solely within our small communities."
Gail Riley, coordinator of foreign language pedagogy and LFS's undergraduate advisor, emphasizes that collaboration is key to the success of these programs. "There's a synergy that happens," she says. "These degrees are interdisciplinary by design. It is the seamless integration of curricula and the essential connections made between language and other disciplines that contribute to each program's uniqueness." Currently, students can pursue these degrees in French, German, Russian, or Spanish; LFS is exploring the possible addition of Arabic, Chinese, and Japanese. Says Riley, "As we look at what the future holds in terms of a globalized society, it is inevitable that we need to strengthen our offerings in these languages and cultures."
Still, LFS has stayed ahead of the curve. The department first offered Arabic in 1994, and Chinese courses have been available for more than 20 years. Since academic year 2002–03, student enrollment in these classes has exploded— by 175 percent for Arabic and 129 percent for Chinese.
To meet the demand, LFS created 400-level topics courses, and added Arabic and Chinese language minors; plans are afoot to create Arabic and Chinese area studies minors. The department also offers courses in Hebrew, Italian, Korean, Persian, Portuguese, Swahili, and Turkish.
LFS has also taken foreign language outside of the classroom and into the community. "Students come to Washington for the international atmosphere, and they take languages with the hopes of connecting with the city," says Rojer. Since 1969, Proyecto Amistad, a cross-cultural community service and language development internship program run by LFS, has connected Spanish-language students with agencies in D.C.'s Hispanic community. And thanks to the efforts of LFS professor Jack Child, AU students now have the opportunity to apply their Spanish skills as volunteers at Walter Reed Medical Center, where they interpret for Spanish-speaking patients and their families.
"As AU strives to become a premier global university, our students realize that nothing is more central to globalization than being proficient in another language and culture," says Riley. "Our students are making connections and gaining proficiency in other languages so that they can communicate with members of diverse cultures in a meaningful way."