On Campus
Extreme Makeover: Printer Edition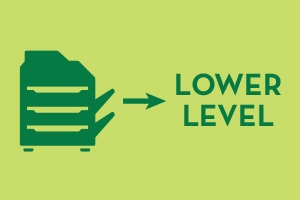 During the summer, the library has worked to improve the efficiency of our printing services and make the experience easier and faster. We now have a new, centralized printing center on the lower level of the library, located between the Mud Box Café and the Course Reserves and Technology Services desk.
Our techs have focused on ways to reduce the number of printer errors and to decrease your wait-time. The new printing center will have four black and white high-efficiency (fast!) printers available for your printing needs, as well as a new color printer. The Print Center will also include six "quick print" computer workstations to launch your print jobs.
Has anything besides location changed?
Don't worry! You use the same process. Just find any open computer in the library, including one of the six "quick print" computers in the new center, upload your document, and print! You just send your document to the all-inclusive "Library BW Printers - Lower Level." and click the "Print" command. Then give your document a name you can remember. Head over to the release station and swipe your card. After choosing your document, it will be sent to whichever printer is free at that time. This means less wait for you! Check at the printers to collect your document.
I like to print from my laptop. Do I have to change anything?
Yes! If you had previously downloaded wireless printing function to your personal laptop, you will need to update. After you remove the old printing function on your laptop, you can download the new print driver here. Or visit the Tech Fair in the library August 17-August 30. After Tech Fair is over, you can still get help with set-up for wireless printing by visiting the computer-help spot, the Technology Support desk open all year in the library on the first floor near the Reference and Research desk.