Achievements
"Team Marcum" Competes in Spanish Language Case Competition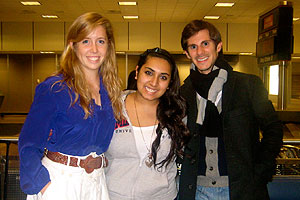 Three Kogod students traveled to Utah for a case competition held entirely in Spanish this month, and dubbed themselves "Team Marcum" as a tribute to the late Professor Sue Marcum, who  originally served as one of their faculty advisors.
For the first time, three Kogod students competed at Brigham Young University's Business Language Case Competition, where non-native speakers presented case solutions in either Portuguese, Spanish or Chinese on Nov. 12.
The Kogod team - Natalie Omundson, Michelle Mahmood and Alexis Miller - had two weeks to create a solution to an international business case before they traveled to the snowy mountains of Utah to contend against 10 other Spanish-speaking teams.
The case: An air conditioning multinational company is experiencing difficulties through the European market in the wake of the economic recession. The team strategized how to revitalize the multinational's Italian sector and presented their case to a panel of judges for 15 minutes, followed by a 10-minute question and answer session.
As sophomores in the Business, Language and Culture Studies degree program, the Kogod-ers were some of the youngest competitors. Most teams were comprised of college seniors or students who had spent time abroad in Spanish-speaking countries.
While the Kogod team wasn't victorious this time, the students plan to study abroad in Chile next fall, improve their Spanish, and try again.
"We received lots of positive feedback and improvement suggestions," Natalie Omundson, BLC '13, said. "I know that [teammate] Michelle Mahmood and I are looking forward to competing again as seniors."
Professor Alberto Espinosa, a native of Peru, also coached the team, and Accounting Professor Emily Lindsay accompanied the students to Utah.
"It was so unfortunate that Professor Marcum was not able to have this great experience with us," Mahmood said. "She would have loved to talk to all the other coaches and judges that came from all over with such different and exciting backgrounds."
Marcum's death was a major setback for the team, but the students pressed on, Lindsay said.
"Team Marcum was most impressive and made a very good showing as AU's first entry in the competition," Lindsay said.
After the competition, entrepreneur Warren Osborne spoke to the teams on utilizing their language skills as a competitive advantage.
Osborne was the CEO and founder of Seastone, a gift card packaging and accessories company. His companies have penetrated 70 percent of American households, and his clients include Wal-Mart, Disney, AOL, Time Warner, and other Fortune 500 companies.