Business
Arabic Proficiency an Advantage for Business, Language Students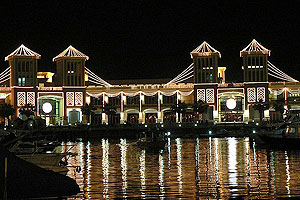 While studying the Arabic language is commonly associated with members of the intelligence community and foreign relations, its escalating importance in the global economy is often overlooked.
Many U.S. companies that do business in the Middle East hire Arabic-speaking consultants, and employers are looking for graduates with Arabic proficiency, according to AU Arabic professor George Berg.
"All business transactions in the Arab world, from Mauritania to the Persian Gulf, are conducted in Modern Standard Arabic if not in English," Berg said.
To address the rising demand for Arabic proficiency in the business world, Kogod recently added an Arabic language track to its Business, Language, and Culture Studies (BLC) degree, an interdisciplinary program that melds the business curriculum with foreign language courses. 
Student demand for Arabic also gave rise to the new curriculum.
"I tell students they have very many opportunities if they have Modern Standard Arabic on their resumes, because employers look for that," Berg said.
Need further proof? The U.S. Department of Commerce says Middle Eastern and North African countries are of tremendous strategic and economic importance to the United States. In order to effectively do business in the region, American businesses should know the customs of Middle Eastern and North African countries, the DOC directs.
"Knowing Arabic is essential for those business students interested in working within the region," said BLC-Arabic student Kyle Griffin, '13. "I chose to study Arabic because it is a region with not only a huge impact on the energy market, but it will also be playing an integral role in tomorrow's world economy."
In some parts of the Middle East, doing business in English is possible, but it puts U.S. business people at a disadvantage, Griffin said.
"Speaking English is another way to associate someone or their company as an outsider," Griffin said. "Speaking Arabic gives the advantage, as business deals are often brokered on the basis of relationships."
BLC-Arabic at AU
To earn a BLC-Arabic degree, undergraduate students complete 33 credit hours in business courses and 32 credit hours in Arabic, including at least one semester abroad.
Students take core business courses while abroad; the classes are taught in a mix of English and Arabic, helping them develop a strong business subject matter vocabulary in Arabic. Students may also choose to complete an internship while abroad to enhance their language and business skills.

After completing the BLC degree, students will be prepared to take the American Council on the Teaching of a Foreign Language oral proficiency interview and to qualify for a regional fluency certificate.
"AU has one of the best departments for learning Arabic," said Kogod Professor Ghiyath Nakshbendi, a Syrian native and member of the International Business Department.
With 400-level courses and summer intensive programs abroad, AU offer students the opportunity to study Arabic at length. Students complete 100- to 300-level courses and then take 400-level courses taught exclusively in Arabic on cultural subjects. 
The Arabic department is looking to expand its programs and hopes to eventually offer a business Arabic course -- a top request, Berg said.
While business Arabic may not yet be an official class, business terms and practices pervade the classroom environment. First year classes introduce customs and currencies of the Arab world. Berg's 300-level class is reading and discussing the rising price of fuel in the Middle East.
"We are preparing the students to use Arabic in a variety of fields, not just intelligence, but also business," Berg said.