Arts
Make a Date to Fall for the Arts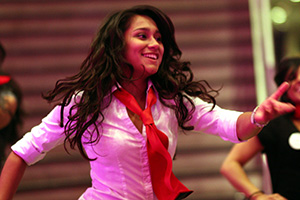 American University invites the entire AU community to Fall for the Arts, set for October 5 at the Katzen Arts Center. 
The event, which is open to the public, welcomes local residents and neighbors, patrons of the arts, AU students and their parents, faculty, staff, and alumni to share the excitement of creating and learning about art. You can also bid on masterful art works at a live auction. 
Fall for the Arts is your chance to join an open dance rehearsal with a choreographer, learn to compose a melody, discover why a conductor's waving baton is so important to guiding an orchestra, or go behind the scenes of interactive graphic design. 
Or maybe you'd rather explore the history of audio recording or learn about the unpredictable ways that unexpected events influence the creative process. Or find out how to "put the play in playwriting" in an interactive workshop led by playwright and performing arts professor Caleen Jennings. 
Whether you choose to paint, dance, make music or drama, or simply soak up the joys of learning about the arts, Fall for the Arts is your chance to share creativity with friends and family while supporting the arts at AU. 
"Unlike similar fund-raising events, ours is casual, highly interactive, and fun—in a way that we feel celebrates what's truly distinctive about this great university," says Peter Starr, dean of the College of Arts and Sciences. 
The day's activities will be topped off with a reception and a live art auction.

"The auction features great examples of amazing artists at the top of their game," says Jack Rasmussen, director and curator of the American University Museum. 
For art connoisseurs of all types, artist Don Kimes will show through his work how unexpected interruptions can be a catalyst to the creative process. Research scholar Joanne Allen will illustrate how Renaissance compositions evolved from initial concept to full-scale work, and artist Sharon Wolpoff will help grownups experience the joy of creating collages. (No experience necessary.) 
For music lovers, Matthew Heap will reveal the secrets of creating enjoyable melodies, Yaniv Dinur will demonstrate the essential role of the conductor and his baton, Marc Medwin will make a lighthearted case against the work of Johannes Brahms (with Ann Kang on piano and Nancy Snider on cello acting as attorneys for the defense), and Shalini Ayyagari will illustrate what an ethnomusicologist does by discussing her fieldwork in a community of musicians in the Thar Desert region on the India-Pakistan border. 
If dance is your thing, check out Melanie George and Marc Medwin's presentation on how improvisational concepts unite jazz and dance, and artist in residence Christopher Morgan will offer an open rehearsal in the dance studio. 
Drama fans will want to join Professor Jennings's playwriting workshop, with the option of seeing a performance of her play Steamystery beforehand, and see Professor Sybil Roberts demonstrate the reggae aesthetic in theatre and learn about its history. They will also enjoy seeing musical numbers from Signs of Life and learn from Professor Gail Humphries Mardirosian about the use of theatre to further social justice. Also not to be missed is Professors Zoe Charlton and Roberts' lecture and demonstration about race, gender, and women in performance and visual arts. 
If you'd like to learn about the fascinating history of audio recording, Professor Paul Oehlers will take you from the inventions of Thomas Edison to the latest digital recording software. And Professor Yana Sakellion will make workshop-goers active participants in interactive graphic design experiments using Xbox Kinect. 
And if you've ever wondered how a museum operates, Professor Juliet Bellow will take you behind the scenes from the ins and outs of forming a collection to the challenges of restoring art work. AU Museum curator and director Jack Rasmussen will give a tour of the Rothfeld Collection, and arts management expert and AU professor Andrew Taylor will present a hands-on negotiation game for a rare look at how deals are struck with touring artists or shows—and how the same negotiation techniques can succeed elsewhere. 
The classes and activities are available for art-lovers of all ages. New this year is a webpage guide to let you know which classes are suitable for which ages. 
The Fall for the Arts live auction will feature works by Timothy App, Raya Bodnarchuck, Jack Boul, Lisa Montag Brotman, Joan Danziger, Alan Feltus, Carol Goldberg, Michael Graham, Tom Green, Lee Haner, Lani Irwin, Wolf Kahn, Micheline Klagsbrun, Edith Kuhnle, Lou Stovall, Di Stovall, Tim Tate, and Sharon Wolpoff. 
Can't attend the event but would still like to participate in the live auction? First, be sure you register for Fall for the Arts. Then email your bid to museum curator and director Rasmussen at rasmusse@american.edu. (Rasmussen will also offer a behind-the-scenes look of the auction, discussing the featured art with some of the artists.) 
As Department of Performing Arts chair Fernando Benadon notes, "We offer a highly eclectic sample of courses and workshops that showcase some of the themes pervading our arts classrooms, studios, and rehearsal spaces on any given week." 
All proceeds support the arts at AU. For more information, check out the Fall for the Arts website.