Achievements
Spanish Professor Wins Mellon Grant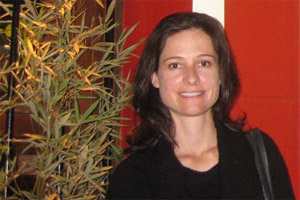 Spanish professor Brenda Werth is interested in how the city emulates the stage—a phenomenon she calls the "inherent theatricality of urban experience"—and how the stage emulates the city.
Werth, who specializes in contemporary Latin American theater, is currently in Buenos Aires conducting research for a book project, Imaginings of the City in Twenty-First Century Performance, that will explore this phenomenon. Her time in Argentina is funded by a Mellon grant from the College of Arts and Sciences.
The project will focus on how theater serves as a paradigm for "intervening and reflecting on the city"—a process that includes analyzing the social, economic, political, and aesthetic transformations of cities in the 21st century. "I want to look at the ways specific plays and theatrical projects from cities like Buenos Aires, Montevideo, Bogotá, and others in the Americas might offer a critical optic for reimagining 21st century cities, as well as these projects' engagement with global economic and legal systems, modes of spectatorship, and urban forms of activism," Werth says.
Werth plans to utilize her time in one of South America's most vibrant cultural hubs by attending live theatrical performances and meeting with scholars, playwrights, directors, and actors based in the city.
While Imaginings is the main project that Werth is working on during her time in Buenos Aires, she will also conduct interviews in Spanish for a co-edited volume on international women directors. She plans to travel to Montevideo near the end of the month to explore the city's theater community and meet a playwright whose work she is interested in. In August, she will present a paper at an international theater conference hosted by the University of Buenos Aires. The paper will be based on material for her forthcoming book, Theater, Performance, and Memory Politics in Argentina.